Television '07
Talent hunts stole the show
Channels offered a plethora of soaps, serials, sitcoms, chat shows and reality bytes. But the winners were the song-and-dance talent shows, says Nutan Sehgal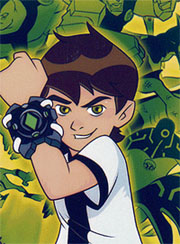 Kiddie channels introduced new characters like Ben 10
Never before has Indian television witnessed such a proliferation of shows as in 2007. Each channel vied with the other to devise programmes which involved the viewer. There appeared to be a sort of a race among the channels to telecast reality shows with mega prizes and celebrity judges.
The year saw established players like Zee, Sony and Star consolidating their positions. Overseas channels like the National Geographic and Discovery resorted to India specific programmes. One of the finest series of the year was Nat Geo's My Brilliant Brain which studied some of history's great minds.
In music both MTV and Channel V became virtually indigenous in their coverage. Their battle for the airwaves was fought in 2007 with the potent ammunition of filmi fare. The intense war was witnessed on the movie front with channels digging deep into their pockets to show the most recent releases. In English movies HBO was the clear leader of the pack as it kept up its policy of airing relatively new blockbusters like The DaVinci Code, Flags of Our Fathers, Miami vice and The Devil Wears Prada.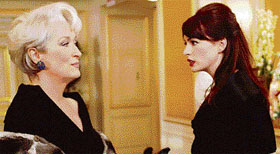 Films like The Devil Wears Prada kept HBO on top

On the Hindi front, an increasing number of viewers were getting tired of the squabbling sasoo-mas and bahus and channels seemed to be in a tearing hurry to cash in on the newfound craze for reality television. Audiences just loved the highs and lows, the ecstasy and the angst of wannabe singers who came to try their luck in thousands.
One of the biggest shows of the year was the Indian Idol on Sony Entertainment Television. It reached out to the viewers directly and the channel claimed a viewership in millions for the show. At least going by the viewers' votes the claims seemed true. The channel followed it up with Jhalak Dikhlaja, a song-and-dance show that had viewers glued.
Second coming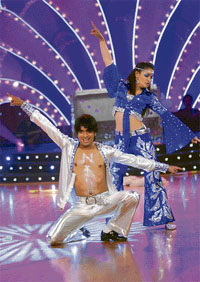 Talent hunt shows like Jhalak Dikhlaja have been popular
It was also the year of the sequels. Hum Paanch, Karamchand, Zaban Sambhal Ke, Nukkad, Tu Tu Main Main, Khichdi, Sanjeevani, Office Office, Dill Mill Gayye all came back but none of them could even remotely garner the popularity they had enjoyed in their first appearance. Most sequel-makers were fast realising that viewers had many options and tastes were changing fast. So, after the initial curiosity, viewers moved on to racier shows.
The only sequel that stood the test of time was Kaun Banega Crorepati. But this had more to do with Shahrukh Khan, who replaced Amitabh Bachchan as the new host. True to his style, King Khan infused a new dynamism and tempo in the show with novel twists and turns.
But even as Shahrukh boosted the ratings of Star Plus, it was clear that game show's appeal was dimming and viewer loyalties were shifting to other entertainment avenues, especially reality shows and talent hunts.
Making news
News channels were in the news throughout the year, each vying with the other in providing groundbreaking stories 'on the hour, every hour', as BBC World puts it. Most observers said that the war amongst channels had just begun. Leading the race were NDTV, CNN-IBN and Times Now in English with Headlines Today trailing a poor fourth and Aaj Tak, NDTV, Zee News and Star TV in Hindi with India TV with its emphasis on 'earthy' news too garnering a decent amount of viewership.
However the race for eyeballs was making most Hindi news channels cater to the viewers with crime and sex-based shows and also some sensational sting operations. Rajdeep Sardesai, editor-in-chief, CNN IBN, said at a news television summit that channels must "move away from the tyranny of the market that makes us cater to the lowest common denominator."
Sting operations too hit a new low in TV journalism when the relatively unknown Live India News Channel aired what was a clear case of televised entrapment. It showed a Delhi schoolteacher Uma Khurana forcing students into prostitution. A Delhi court granted her bail and put in dock the reporter behind the sting.
Kiddie channels too had a great time throughout 2007. Led by Cartoon Network and Pogo, they brought imaginative and captivating programming on the small screen. From all-time favourites like Tom and Jerry, Richie Rich and Popeye, there were newer characters like Johnny Bravo, Ben 10, Skunk Fu and the Powerpuff girls to entertain kids. Pogo's Just For Laughs became an instant hit with its practical jokes.
Indeed there was all-round activity throughout the year as channels vied with each other for eyeballs and spoilt viewers for choice. But the clear winner were the talent hunt shows. Even as the year came to an end, shows like the Indian Idol, Jhalak Dikkhla Jaa and Nach Baliye all wound up but were soon being replaced by more musicals like K For Kishore on Sony and Say Shava Shava on NDTV Imagine with Karan Johar and Simi Garewal as celebrity judges.
As 2008 rolls in, the fun seems to have just begun for Indian television viewers. — NF