BIG ruled the roost
Bright colours, bold prints, trends of the 70's, sequined kurtis, layered tops, skinny denims...the city sported it all
Aman Minhas
Fashion got bigger and better this year. Big shades, big bags and even big kalis in suits. All was indeed bigger. Even the fashion stretch was big. Everything seemed to work. Stretch jeans or straight fits, tank tops to the long kurtas and tunics, or long kurta or the long mughal cuts. There were a host of options for the fashion conscious breed to pick from!
Western Look
Be it malls, shops or even our reasonable patri market all had long tops and tunics hanging, waiting to be taken away. Kurtas and cotton no longer remained synonymous. Embellished with swaroski crystals and sequins, the kurtas in chiffons and georgettes and even crepes wrote a different story.
Bright colours and big prints made women and men buy shades that were considered too loud a couple of years back. Bright red, purple and dark green were no longer shades to shy from. Big belts and bigger buckles managed to survive another season and were worn not to keep trousers in place but to keep pace with fashion. Belts remind low waist denims and we are thankful that waists didn't go down any further this year.
Lycra's stretch qualities ruled. Stretch jeans and skinnies swept the young off their feet by making themselves available in all possible cuts.
As the mercury was rising so was the slim look and this craze is keeping the winters warm as well. Another rage was the glow stripes that one saw in shirts, t-shirts and trousers that lent a hint of jazz to whatever we wore.
Layering has never got bigger that this. If summers saw layered tops winters catered to layered and two piece sweaters. The trend wasn't even spared by stoles and mufflers. They layered to keep us warm. Vaskets with halter necks in crochet, satin and denim came as a real pleasure. Ensuring spunk they serve dual purpose of wearing a vasket and layering.
Retro Fever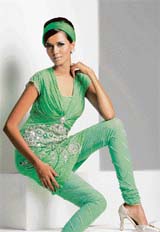 The making of OSO ignited a trend, much before it released, that 2007 will be remembered for — revival of the retro look of the 70s. The designers incorporated happening trends of the era in the latest materials, giving rise to to a rage.
Back came the Shashi Kapoor style bold printed shirts for men in the most striking colours, Leena Chandravarkar style big hair bands, Nanda style tight fitting churidaars, Sharmila style blouses with tie-ups at the back, Hema Malini style jet black hair and Zeenat Amman style big shades. And it was not just the attire; even the make up took a u-turn back to the 70s. Winged eyeliners, dark kohl smeared peepers, nude lips and oil-based foundations changed the party look!
Traditional Charm
The ding and bling was definitely ruling, not alone but with a lot of mix and match. Whereas last year the sequins, dabkas, goota patties and zardosi maintained a safe distance, this year they all came around to party. Seeing the embroidery clan making merry, the colour palette too joined in with all its brothers and sisters. So we saw long lost relatives like faun and turquoise coming together. But the major comeback was of the colour mustard. Wedding outfits to simple suits, mustard was all over the place. But amidst all this merry making and reuniting care was taken that nothing was over the top. Subtlety was the bottom line.
Short kurtas and staright cuts sabotaged the longer ones two years back not realising that life in the fashion industry is shortlived. Back came the long kurtas and how! It appeared as if the kalis and yolks and the long kurtas conspired against the short ones and ousted them. Mughal kurtas with shimmering brocade yolks and empire waists that reached almost the ankle didn't leave any chances of survival for the short kurtis.
New Shades
The big shades that cover up the entire face were a runaway hit. Even the age old Tom Cruise favourite aviators too became big. Pink, red, yellow or for that matter any striking and sparkling colour was welcome as far as the shades were concerned.
Mane Concern
New rules were spelled out for the crowning glory. Streaking was striked away and overall colours became the unwritten law. The different and wilder the colour the better it would be.
So, the apprehensive reds and light browns and deep purples were embraced wholeheartedly. Just like long kurtas, long tresses have even managed to grab the spotlight once again.
lifestyletribune@gmail.com