Medical technologists
Usha Albuquerque
Medical laboratory technologists are an important link in the medical profession. They are concerned with diagnosis, treatment and prevention of diseases through the use of clinical laboratory tests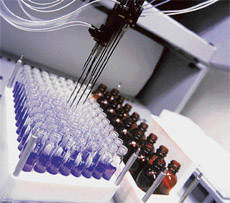 Joining a medical college as an MBBS student is not the only route for entering the medical field. With the increase in medical facilities, hospitals, healthcare centres, polyclinics, nursing homes and diagnostic centres, there is not only a demand for trained doctors and surgeons in various fields of specialisation, but also for medical experts and technicians in different areas.
Technology in the field of medicine is advancing by leaps and bounds. As a result, the need for trained personnel to operate, utilise and interpret the new equipment is also increasing rapidly. These professionals, therefore, play an important role in assisting the doctor make an accurate diagnosis for the treatment, cure and care of patients.
Vital link
Medical laboratory technologists are an important link in the medical profession. They are concerned with diagnosis, treatment and prevention of diseases through the use of clinical laboratory tests.
The laboratory technologists do these tests by analysing body fluids, tissues, blood typing, microorganism screening, chemical analyses, cell counts of human body, etc. They play an important role in collecting the information needed, sampling, testing, reporting and documentation of these investigations. They determine the presence, extent or absence of disease and provide data needed to evaluate the effectiveness of treatment. Such tests help the doctors to detect, diagnose and treat diseases.
Job profile
The work of medical lab technologists is generally conducted in medical and biochemical laboratories, where they deal with different instruments and conduct a range of tests and analyses, etc. They work in five major areas of the laboratory i.e. in blood banking, clinical chemistry (chemical analysis of body fluids), hematology (blood related), immunology (study of immune system) and microbiology (study of bacteria and other disease organisms).
The technologists are entrusted with immense responsibilities. They perform complex tests such as microscopic examinations of tissues, blood and other body fluids to detect evidence of disease and detect the presence of bacteria, fungi, parasites, etc, and chemical tests to determine blood cholesterol levels.
They also conduct blood transfusions, match blood samples and test drug levels in blood to determine how patients are responding to medications. They are often responsible for making sure that testing is done accurately.
Medical technicians work with lab technologists and handle routine laboratory testing, prepare specimens and operate machines that automatically analyse samples. The technicians have to understand and follow the instruments precisely since faulty testing could lead to negative results and harm human life.
Instruments too have to be handled carefully and the correct procedures and timings have to be adhered to. In addition to running tests, laboratory technicians are also involved in examining body fluids and tissue samples, determining the presence of bacteria and fungi, and preparing slides from sample tissues and body cells.
Getting in
Courses in medical lab technology are offered by colleges, universities as well as hospitals, many of which are affiliated with a college or university.
The basic eligibility for bachelor of medical laboratory technology is 10+2 or equivalent with science subjects. The three-year B.Sc. programme in medical laboratory technology is offered at several institutions, including the All-India Institute of Medical Sciences, New Delhi; Medical College, Trivandrum; the Jawahar Institute of PG Medical Education and Research, Pondicherry; Pant Institute of Technology, Pondicherry; and the Post Graduate Institute of Medical Sciences, Chandigarh.
There are also diploma/certificate courses for lab technicians/assistants in general and in different specialties such as diplomas in EEG lab technician, histopathology lab technician, etc.
The eligibility for a two-year diploma in medical laboratory technology and for certificate courses is 10+2 or equivalent examination from a recognised university or board.
While precision, accuracy and patience are important, those getting into this field also need to have the ability to conduct research, finish tasks with speed as well as with accuracy, to handle stress and make analytical judgments. As the doctors diagnosis depend heavily on the findings, interpreting technical/scientific data, knowledge of laboratory instrumentation, an eye for detail and immense dedication and self-motivation is required in this job.
Demand for technologists
With the rapid spread of hospitals, dispensaries and medical centres to practically every corner of the country and the increase in specialisations in the medical profession, the functional areas for the laboratory technologist have rapidly expanded.
Various government-aided hospitals and dispensaries as also government public health and environment departments take on medical technologists for clinical work and in administrative functions recording results of tests conducted in the laboratory, maintaining accurate clinical records, selecting and evaluating laboratory equipment and other such tasks.
A certified medical laboratory technician can find a challenging career in a hospital, at clinical laboratories, blood donor centers, doctor's office or clinics. The technologists can also assist the doctors in taking samples, centrifuging, making slides, using specified stains, etc, under proper guidance.
Job opportunities are also available in research laboratories and with pharmaceutical companies, biotechnology companies, diagnostics, drug testing and vitro fertilisation laboratories, as also in product development and sales and marketing areas.
So if you are looking for a medical career, one as a medical lab technologist can be both stimulating and enriching.