Rebel in black & white
He had a lust for life... and for freedom. His biggest asset was his spirit of camaraderie. The first official biography of Bhagat Singh by Malwinder Jit Singh Waraich brings forth the little known details of the unrelenting revolutionary, the caring son, the loyal friend and the 'ordinary' man who relished the simple pleasures of life writes Aditi Tandon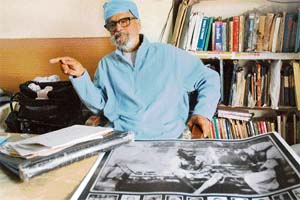 The biographer Malwinder Jit Singh Waraich at his home in Saketri — by Parvesh Chauhan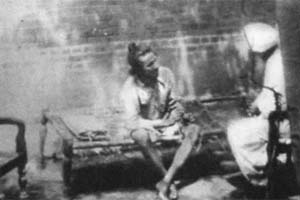 The book has reproduced about 50 original photographs of Bhagat Singh, his family and other close associates. This rare photo shows the martyr in CID custody (May-June 1927)



In the backdrop: Bhagat Singh as a boy. From left: Arjan Singh (grandfather) and Kishan Singh (father)
LAST year on Kakori Day (December 19) Bhagat Singh quietly came alive in the utterances of Malwinder Jit Singh Waraich from Chandigarh. The 78-year-old chronicler of the revolutionary movement told overwhelming tales about the lives of Bhagat Singh and his companions. Among them were Ram Prasad Bismil and Ashfaqullah of the Hindustan Republican Army (HRA), who kissed the gallows on December 19, 1927, a day Bhagat Singh never failed to commemorate all his life.
For Waraich, there couldn't have been a better day than December 19 for the dedication of Bhagat's first official biography to the nation. "I still see Bhagat, Rajguru and Sukhdev projecting pictures of the Kakori martyrs on the magic lanterns. So religious they were in paying respects to the martyrs that in 1928 they observed it three days earlier, on December 16. A day later they were to kill the SSP of Lahore, and they were aware of the impossibility of their return," says Waraich, fresh from his decades-long research on Bhagat, whom he approaches as a friend rather than a historian.
That's what makes Waraich's Bhagat Singh: The Eternal Rebel, published by the Ministry of Information and Broadcasting and released recently at Delhi by Information Minister Priyaranjan Das Munshi, special. For one, it doesn't attempt to interpret or idolise the martyr. "Bhagat was one of us. I showed him as he was — a sensitive child anguished by the Jallianwala Bagh massacre, a doting son, a loyal friend and an unswerving revolutionary," says Waraich, terming camaraderie as the martyr's biggest asset.
In his book, Waraich celebrates the sublime comradeship of martyrs and shows how they viewed success as the victory of collective wisdom. For instance, he mentions that Bhagat and other members of Hindustan Socialist Republican Army (HSRA) trusted Bhagwati Charan Vohra to write the organisation's most vital documents — the manifesto and "Philosophy of the Bomb". This when Vohra was not even a formal member of HSRA; he was a friend and that sufficed.
For Waraich, the experience of living these friendships was precious: "As I wrote about Bhagat, I woke up to the fact that he was not the lone victor in his mission, as believed. Comrades were together in triumph," says Waraich, whose work could be vital for many reasons. One, it relies not on hearsay but on accounts of Bhagat's life by his family, most importantly his mother Vidyawati, whom Waraich knew personally. Two, Waraich dwells on other primary sources like accounts of family historian and Bhagat Singh's niece Verinder Sandhu, his friends Shiv Verma and Jaidev Kapoor. With these writings as tools, Waraich resurrects the martyr in flesh and blood. Among modern writers, he relies on A.G. Noorani.
The most touching references come from Bhagat's family, whom the author has known since 1963 when he first met Vidyawati, courtesy his student Jagmohan. "Jagmohan is the son of Bhagat's sister Amar Kaur. I met him in the 1960s at Guru Nanak Engineering College, where I taught humanities. Our bond led to my first visit to Bhagat's ancestral village Khatkar Kalan to meet Bhagat's mother," recalls Waraich.
Vidyawati remained close to Waraich's family till her death in June 1975. Before she died, she shared with Waraich intimate accounts of her son, his playful ways and firm ideals. The book reproduces Vidyawati's reminiscences: "Bhagat used to say he would bring home a charming bride; he brought one in the form of freedom. He would also tell me not to come to receive his body. He loved me, contrary to the belief that his life of total dedication to the revolution had no space for love. He also loved his friends."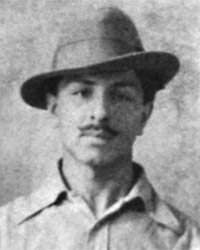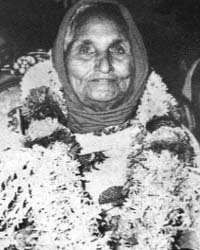 Bhagat Singh's mother Vidyawati
To learn more about the martyr, the biography depends on memoirs of martyrs while they were in direct contact with Bhagat. For details on Bhagat's life at National College, Lahore, Waraich relies on Sinhavlokan, memoirs of Yashpal, Bhagat's college friend. For conflicts related to Bhagat's marriage, Waraich refers to Verinder Sandhu's work. Importantly, the author also fixes for the first time dates, places and persons involved in events that shaped Bhagat's life. For instance, he trails the life of Bhagat after he left home for Kanpur to stay with Shiv Verma at the DAV College. To fix these dates, he refers to the evidence which the college head clerk gave to the court in the Lahore Conspiracy trial.
Interesting also is the way Waraich celebrates the writings of Bhagat's friends Shiv Verma, Jaidev Kapoor and others. In doing so, he revives books like Sansmritiyan by Verma and Yash ki Dharohar by Bhagwan Mahore, which are either unavailable now or out of circulation.
Waraich reproduces in his work over 50 original photographs of Bhagat, his family and friends. "Adding visual appeal was important considering that Bhagat loved pictures. Whenever he used to send his articles on martyrs for publication to Maharathi, a Hindi periodical, he would request for the publication of their pictures," says Waraich. The most important picture Waraich reproduces is the one taken by the police secretly at the time of Bhagat's first arrest in May 1927. It captures DSP Gopal Singh in conversation with Bhagat. "The picture had gone out of circulation. Its half version was available in which Bhagat is seen sitting alone. I retraced the original to Gurbachan Bhullar, former editor, Punjabi Tribune," says Waraich, for whom the book was a process of discovery.
During the course of his writing, he traced new facts about the martyr, who relished ghee and milk and had a regular account with a sweet vendor at Lahore's Anarkali bazaar. As a student, Bhagat loved history and political science but was weak in English. Soon, he mastered the language to an extent that his comrades trusted no one but him to represent them.
The biography relates to Bhagat's anguish over people's indifference to the sacrifices of Kakori martyrs. Even after the killing of J.P. Saunders, Bhagat and his friends reflected for long over the reason they were failing to awaken the masses. Waraich tracks this period (early 1929) and shows how the martyrs abhorred violence.
So much so that they reversed the old strategy of targeting others and decided to risk their lives. That's how the plan to drop the bomb at central assembly was made. "This was a strategic masterstroke. It brought Bhagat from the margins to the centrestage. The media which ignored Bhagat post Saunder's murder were now hankering after him. In one stroke, the martyrs had conveyed their message," explains the author.
Waraich manages to bust some myths about Bhagat Singh, the first being: "there were many turning points in the martyr's life and the martyr was extraordinary". The author says, "There was in fact continuity in what Bhagat did. Changes in his life were imperceptible and he was not extraordinary but a simple man. He sold newspapers for a living, helped flood victims at Kanpur, even worked as a school headmaster," says Waraich, refuting another view which communists hold. They say Bhagat while still out of jail was not a communist as he did not have any communist literature to study. "That's not true. Bhagat had both the opportunity to study as well as absorb Marxism. He even gifted the Das Kapital to Bhagwan Mahore who states so in his writings," Waraich says.
In Sansmritiyaan, Verma mentions an episode where he is upset at being left out of the team formed to rescue Bismil. Consoling him, Bhagat says, "Every soldier's top preference is the battlefield. Yet some of us will have to abandon this passion for action. It is true that the glory of martyrdom goes to those who involve themselves in actions but their position is like that of the gem plastered on the door of a building whose real worth is nothing as compared to the ordinary stone in the foundation`85Our movement has earned only gems so far; it has not gathered foundation stones`85"
The book is laced with anecdotes that reflect Bhagat's casual yet firm ways "He believed the Irish revolutionary Winey who said no revolution could succeed whose leaders lacked a sense of humour. Bhagat had this quality in plenty. He could joke in the face of death," says the author, recounting the day when Bhagat and BK Dutt were to leave for dropping the bomb in the assembly.
Even in that grave moment, Bhagat had the presumptuousness to pause by Jaidev and give him the brand new shoes and watch he was wearing: "The police will take these away. It's better you use them," he said. Taking life in his stride, Bhagat Singh was a man like any other, lusting for freedom like anyone else.
Bhagat's last meeting with comrades sums up his lust for life. When asked by Shiv Verma if he was sorry to die, Bhagat replied: "When I set my foot on the path of revolution, I thought if I could spread the slogan of Inquilab Zindabad to every corner of India. Today when I am behind bars, I can hear the roaring sound of that slogan`85. What more price could there be for so short a life?" A life so short has inspired yet another account of the martyr — a truly intimate and all-encompassing one this time.