The superb performances of several youngsters in the ongoing PHL augur well for Indian hockey, writes Akash Ghai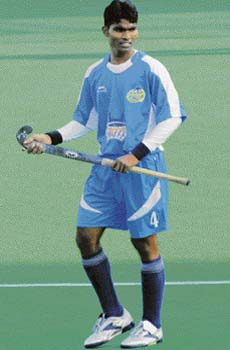 Diwakar Ram of Hyderabad Sultans has distinguished himself as a defender and a drag-flicker — Photo by Pradeep Tewari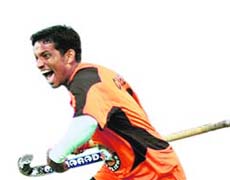 Cheeyanna has been an asset to Bangalore Hi-Fliers due to his goal-scoring prowess — PTI photo
THEY got an opportunity to prove themselves and they grabbed it with both hands. With an aim to "catch 'em young", the Indian Hockey Federation (IHF) distributed 17 under-21 and under-19 players among the seven teams of the 4th Premier Hockey League.
Some of these young players have shown plenty of promise, such as Cheeyanna (Bangalore Hi-Fliers), Diwakar Ram, Sameer Baxla (Hyderabad Sultans), Gurvinder Singh Chandi, Ranjodh Singh and Gurwinder Singh (Sher-e-Jalandhar) and Dharamvir Singh (Chandigarh Dynamos).
Their performances in the ongoing PHL have not only been instrumental in securing victories for their teams but have also attracted the attention of top officials. After watching them in action in Chandigarh, India's coach Joaquim Carvalho was of the opinion that some of them deserved to be in the Indian squad.
Uttar Pradesh drag-flicker Diwakar Ram has emerged as a front-runner from the young brigade with his accuracy and cool demeanour. His ability to execute well-directed drag-flicks during penalty corners as well as solidly man the defence line have made him an integral part of the Sultans' team.
In five league matches, full-back Diwakar, who is playing in the PHL for the second time, scored four crucial goals, besides thwarting several attacks by the rivals.
Talking to The Tribune, the 18-year-old player from Gorakhpur said, "I am thrilled to be noticed in the PHL. The experience and exposure I have got here is invaluable. All are applauding my game, which gives me a lot of confidence."
Terming speed and accuracy as his strong points, this Indian Oil player is looking forward to break into the senior team. For the purpose, he has been working hard on his drag-flicks. Though India have two top drag-flickers in Sandeep Singh and Raghunath — not counting the out-of-favour Len Aiyappa — Diwakar might get a chance if the seniors perform below par at the highest level.
His team-mate Sameer Baxla, who also plays as a full-back, has won praise for his turf coverage and the capability to convert rivals' attacks into counter-attacks. No wonder he is one of the favourites of Sultans' coach P Madhukaran.
"I am enjoying the attention. Now I find myself closer to realising my dream of entering the senior team. One thing I need to improve is my consistency," said Baxla, who is playing in the PHL for the first time.
On PHL, the 19-year-old player from Orissa is of the view that this is a good platform for youngsters where they get to play with Indian seniors and learn new techniques from foreign players.
Another PHL first-timer who has impressed one and all with his skills is Cheeyanna. He was the one who scored the match-winner for Bangalore Hi-Fliers against Chandigarh Dynamos. Incidentally, the Hi-Fliers won the match 3-2 after being 0-2 down at one stage. In the crucial game against Chennai Veerans, the youngster produced a brace to pave the way for his team's entry into the semifinals. He also earned the Man-of-the-Match award for his top-class performance.
Nineteen-year-old Gurwinder Singh Chandi has been an asset to Sher-e-Jalandhar. Centre forward and right-in Chandi, who has created many successful moves for his team's strikers, has also made an impression with his fast dribbling and ball control.
Lauding his pupil, 1996 Atlanta Olympics veteran Sanjeev Singh Dang, who is the Sher-e-Jalandhar coach, said, "Chandi has a knack for dodging and moving with speed. He reminds me of Olympian Baljeet Singh Dhillon, the outstanding player who retired earlier this year. He is definitely a prospect for the Indian team."
On his show in his maiden PHL outing, Chandi said, "I have to go a long way. The league has given me plenty of confidence as well as much-needed exposure. It goes without saying that my aim is to make it to the Indian team."
Chandigarh player Dharamvir Singh might have been sent on the field for short durations, but the right-out has managed to make an impact with his lively game.
In almost every match, Dynamos coach NS Sodhi has relied on him to replace tiring players. The 19-year-old Dharamvir has fed the forwards with quick passes and also supported the defence line.
"I'm satisfied with my show. It doesn't matter that I haven't played for long periods," says Dharamvir.
"These youngsters are the future of Indian hockey. With proper guidance and motivation, they can make their mark at the international level," says Sodhi.
Undoubtedly, they will be in the thick of things in today's semifinals. Let's see which of them help their team go the distance.