An extra coat of love
Buy your pet a velvet coat, a blanket or a high neck frock to brave the chill
Aman Minhas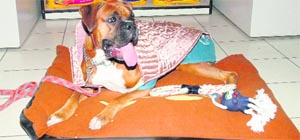 IT'S getting chilly with each passing day and layers of woolens is all that you can think of to keep you and your family warm. And, if your family picture stands incomplete without your pet, then we know what's bothering you more than your cough and cold. The temperature is dipping and cuddling up under the bed or on the carpet, wrapping him up with an old shawl, letting him sit in the sun and more is just not proving good enough to take care of your little one. — Photo by Manoj MahajanPurva Grover
Ever since Orkut, Facebook, Hi5 and other social networking sites (SNSs) invaded your life, you got confided within the walls of your room. And, while you searched for old buddies or bonded with new ones, your little one, the adorable dog or the lovable kitten, just looked at you with watery eyes from underneath your comp table. Well, things are going to change very soon. For, your Labrador or Pomeranian or Pug or German Shepherd might soon sit right next to you and network. Don't believe us? Well, just log on, oops read on.
BIG PICTURE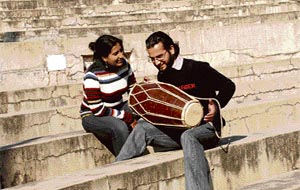 GETTING INTO the groove:
With Lohri around the corner, these youngsters hone their rhythmic skills. — Photo by Pradeep Tewari

Going Beyond beauty
Artist Karun's passion is to capture the mystic elements of nature


Parbina Rashid
His musings on nature come in interesting hues — mostly monochrome. As Naresh Kumar 'Karun' believes in taking inspirations 'of nature' rather than 'from nature', his version is quite different from what we see with our naked eyes. Yes, he believes in capturing the moods of nature in abstract.

Singled Out
A city-based lecturer has penned a book on single women
We know him by many names, Dr Quickfix, Dr Feel Good, Dr Quick Heel, a heart specialist and more. Ranjay Vardhan earned these names last May by authoring a book for the broken hearts called Coping with Broken Hearts. A senior lecturer of sociology in GCG-42, he is now back with his fourth book tilted — Single Women: A Study of Spinsters.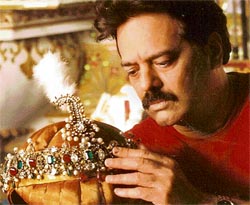 Recreating the Taj Magic
Sans song-dance, the new Taj Mahal targets international audiences


Purva Grover
It was location hunting for his telly series — Akbar The Great — that took Akbar Khan to Agra. And, well fortunately so, says the producer-director Khan who is now ready to release his flick Taj Mahal for the second time early in 2008. The edited version of the original (released in 2005) gathered raving reviews this month at the International Film Festival-Dubai. We chat up the man behind the Taj on the silver screen!

JLo for natural birth
Singer actress Jennifer Lopez, much like Tom Cruise's wife Katie Holmes, is to give birth naturally and quietly without painkillers. Holmes gave birth according to Cruise's Scientology methods by keeping quiet the whole time.

BON APPETIT
Orbs of Orange
The sunny orange is one of Mother Nature's best superfoods, packed with an array of disease "phy-ting" phytochemicals, all tucked neatly beneath the glistening peel.

Wine & Cavity
A new study has revealed that specific polyphenols present in red-wine byproducts may considerably reduce the ability of bacteria to cause cavities. According to the researchers, the findings may also have implications in developing drugs against oral diseases.

Telly Tales
To, by & for Bollywood
Flooded with stars, getting inspired from Bollywood & serving as a ladder to the glam world, is telly screen the new 70 MM?


Purva Grover


ONCE upon a time, very very long ago, not just family members, but also the ones from the neighbourhood, would religiously get together each Sunday in front of the TV. Why? Well, for that was the only day (apart from Chitrahaar) when the stars of the tinsel town entered our living rooms via the 'feature film'. But, that's history. Today, the tube is treating us to an over dosage of stars, making TV actors into stars and also getting all inspired from Bollywood.

Baring facts
Fans of James Bond star Daniel Craig are in for a big disappointment, as the actor will not be baring his chest in the next 007 movie. In 2006's Casino Royale, the 007 star strikingly showed off his spectacular body as he emerged from the water in tight blue swimming trunks. Craig had also vowed to 'go totally nude' in the next Bond movie. However, newly installed Swiss director Marc Forster says a repeat of the thrilling scene is highly unlikely in the as yet unnamed sequel.

Murphy weds in style
American actor Eddie Murphy wed film producer Tracey Edmonds on a private island of Bora Bora in French Polynesia on New Year's day. A spokesman for Murphy confirmed that the couple tied the knot on Jan 1, in presence of 25 friends and family members. The duo, who had been dating since 2006, exchanged vows under a gazebo on a special man-made beach constructed of 6,000 shells.

Tip