Breaking the mould
Sidhu Damdami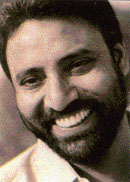 Jaswant Deed won the 2007 Sahitya Akademi Award for his poetry book Kamandal
The feeling that Punjabi poetry had been stuck in the Patar-Pash mode for a long time was widespread in the Punjabi literary world. This mode, generated by a lyrical progressivism couched in Patar's traditional romantic imagery and Pash's revolutionary rhetoric laced survived the last one and a half decade. This, despite the fact that quite a few new poets tried to make a departure from it in form as well as content. Contemporary poets like Manjit Tiwana, Lal Singh Dill, Amarjit Chandan , Jagtar and Minder remained sandwiched between the two towering 'Ps'.
Historically, most of the Punjabi literature was inspired by various political and social movements. Hence a lull in political and social arenas led to a corresponding lull in literary activities in Punjab. The fall of the Naxalite movement in the 1970s marked a period of literary inactivity in Punjabi that later became duller due to the anti-creativity environment created by the terrorist movement. However, in the early 1990s after the restoration of peace in Punjab, literary activities started picking up even in the absence of any visible social or political movement. This makes the literature being produced then onwards characteristically different as it is not the fallout of a movement but the reverberation of the individual pitted against crisis, pressures, conflicts and dangers of modern living.
This literature, which may be low on social and political concerns, is certainly high on concerns that affect the modern individual-personal, intra-personal and inter-personal conflicts. After decades, Punjabi literature in general and Punjabi poetry in particular has started acquiring a of metaphysical tinge. The poet Jaswant Deed who's book of poetry Kamandal (a hermit's bowl) has been selected for the annual Sahitya Akademi Award in Punjabi, for 2007, is in the forefront of those writers who are creating this literature of 'different strokes'.
Deed, 53, has published five collections of poetry. By his diction and form of treatment, he paves the way for Punjabi poetry to make a much desired departure from the above mentioned mode. He also draws heavily from local myths, customs and beliefs but he reframes folk metaphors and similes in such a way that they give fresh interpretations to the experiences of modern Punjabi being stretched between village and city, between Punjab and green pastures in foreign lands, between his/her spouse and 'other' relations.
Inverting the proverbial concept of romance, his poetry depicts the romance which is darkly lonely, edgy, bitter, unreliable, avenging, killing and punctuated by cold reality bites. Critic Surjit Hans considers the poetic use of the technique of antithesis as Deed's forte because "He contradicts the argument he has made to contradict the contradiction in the next round of poem and the poem blooms". For the well-known poet Minder, Deed's poetry is an erotic painting sometimes bordering on mysticism done on a global canvas with a monk's brush. Describing Deed's effortless way of writing poetry, another eminent Punjabi writer Bhushan says, the poems spring up wherever Deed touches his pen, now.
There can be a dispute about the social relevance of Deed's poetry but that makes it different from the poetry wedded to political ideologies and movements. Not only shattering many a taboo in Punjabi poetry goes to Deed's credit but also the freshness of experiments in form. Being professionally related to television, Deed has, consciously or unconsciously, structured his poems like short and intense films. Some of his poems read like tightly written movie scripts wherein one can sense the presence of close, medium and long shots blended well with the change of camera angles and frames. His poems, mostly, have a visible or invisible story thread passing through them. He effortlessly constructs his poems with audio and video files rendered in text.
However the most striking feature of Deed's poetry lies in his fearless autobiographical confessions regarding his personal life which Punjabi writers traditionally keep in the closet.