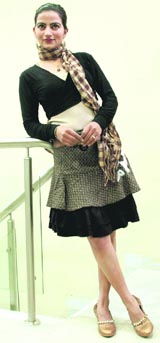 Photo by Pradeep Tewari; Location courtesy: Micky Chhabra

Chasing skirts
The mercury may have dipped like never before, but city girls aren't skirting the skirt!
Purva Grover
Romantic, steamy, graceful, sporty or casual, whatever maybe the look, skirts are in. Short or long, straight or flared, frilly or plain, woolen or khaki, you couldn't really ask for more. Be it in lengths, cuts, fabrics or accessories, there is something for everyone. We've got you a style check on what's ruling.

Bead It!
Crystals, metallic balls, kundan, zircons & even rudraksh: This season jazz up your look with beads


Parbina Rashid
IF you happen to be a regular visitor at the Lajpat Rai Bhawan-15 or Panchayat Bhawan-18 then you know which stalls pull the maximum crowd — the ones from Jaipur that sell bead necklaces. And, looking at a majority of FTV models sporting long ones, including our much-revered rudraksh, it is indeed difficult for our hip and happening city crowd to resist the temptation to own one.Chhatbir Zoo has had the best of people visiting it and praising its overall standards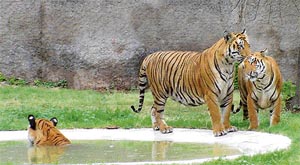 Parbina Rashid
Having seen the ferocious man-eaters in Guwahati Zoo, most of which were caught by Zia-ur-Rahman, the Jim Corbett of Assam, Chhatbir's tamed lions and disciplined tigers are quite a change. What left an imprint on my mind during one of my visits to the zoo were tigers making a beeline for their enclosure as the clock struck 5! After all, the government sector works from 10 a.m. to 5 p.m. so why should a tiger in a government zoo be any different?

City buses not so bad!
As a journo some of the queries that I am often bombarded with about my profession are — So do you need to run around throughout the day? Do you have erratic timings? How do you commute?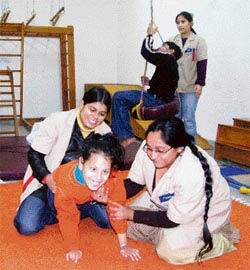 A noble lot
Astha is here to take care of god's special children


Purva Grover
An eight-year-old responded to her mommie's hug for the first time and the mother calls it a blessing. Another five-year-old has learnt to brush his teeth. A seven-year old has learnt to smile and say Hello. His friend even drew an apple with colour pencils. Meet the Astha family, where sweets were distributed last week when a three-year-old said Ma seven times in one single day.



Photo by Vicky Gharu

Luxury at your doorstep
No more stepping out of your swish car to open the gate, just press a button & drive in


Parbina Rashid
AS the car meanders through the narrow road to an imposing palatial house, the man behind the wheel stretches out his hand and presses a button on a device. The gate opens automatically, the woman sitting next to him is all awe-struck. Could be a scene from one of those 'rich guy meets poor girl and falls in love' Mills & Boons novels, with never-ending narration of English countryside mansion equipped with modern gadgets that give a taste of both the old-world charm and modernity.

Exhi-Watch
It's dazzling
CALLING all diamond lovers, here's your chance to get bedazzled by the brilliance of the stone at the ongoing OTM Mega Exhibition-cum-sale. The Delhi-based brand has brought a complete range of diamond jewellery — rings, bracelets, pendants, necklace sets and bangles. The BIS certified collection is priced between Rs 2,000 to Rs 7 lakh.

Wrap in Style
THIS New Year may be bringing a lot of chills but along with it are coming the remedies. Like Vastra from Amritsar and S.A. Pashmina from Srinagar. They have brought a lot of colourful and expensive shawls to combat the cold. Here is a wide range of Kaani, Pashmina and Jaamawar shawls that cater to the taste of both the modern and conservative stylist.

Matka Chowk
Chak De Shopping!
Chandigarh loves to shop. I have not seen too many cities, where people find any merry day an occasion to shop. The shopping that starts with Dussehra and goes on till the New Year. Sector 17 turns into a virtual mela.

Halle's desperation
Actress Halle Berry has revealed that she is desperate to act with Oscar-winner Denzel Washington. The 41-year-old star said she would love to work with Washington if a right script comes her way. And it seems quite convinced that the pair will team up for a film in the future. "I still want to work with Denzel Washington.

First Day First Show
Fantastic Escape
The Golden Compass
Watchable
IF you like fantasy movies, this one is for you. It is a fable set in a parallel 19th century-like world infested with witches, demons and a caboodle of chatty critters. It has an awfully simple and swift moving plot that is easy to follow and enjoy. Most scenes advance the plot and through the plot one could see the characters. The highlight of the film, of course, is the bears.