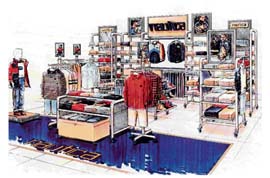 Entertainment, media and retail are slated to be the hot work sectors in 2008, writes Usha Albuquerque
Get, set...
Show Building Skills
There is much laughter and merriment in the air as we welcome in the New Year. It is the time of the year when we party hop in Delhi, dance on the beaches of Goa, attend glittering shows of Bollywood stars in Mumbai, or jet off to some exotic locale. Every year, the entertainment gets bigger and bigger, more organised and more extravagant. Yet no one is complaining, as the media and entertainment business booms forward. Whether it is the planning of events of all kinds — music, entertainment, star evenings, food fests, or fashion extravaganzas, the food service, the d้cor, the performances, or the management of such occasions, the rising discretionary incomes of larger numbers of people means more jobs in this glittering sector.

Careercature
Sandeep Joshi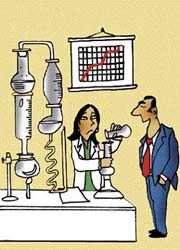 In fact, this year I want new experiments in career
consultancy.

Career Hotline
Log on to Olympiads
Pervin Malhotra
Q Our son has a way with computers. He has been designing small programmes ever since he was a kid. What can we do to sustain his interest?

Set sail in exports
Q I have been working with an export house for 3 years. Since I am dealing with shipment, I have gained some functional knowledge. Is there any related course that I could pursue to upgrade my prospects?

Cambridge varsity to raise funds for scholarships
The University of Cambridge is planning to raise about one billion pound (about Rs 7,761 crore) over the next four years through various sources to provide financial assistance to students, including those from India. The funds would be raised through the university's alumni, charitable trusts, foundations and corporates. The fund-raising programme, part of Cambridge's 800th Anniversary Campaign, aims at providing better financial support packages and scholarships to students as well as for research, University vice-chancellor Alison Richard said.

IIM-B launches website for teaching CSR
The Indian Institute of Management Bangalore (IIMB) recently launched a website dedicated to teaching of Corporate Social Responsibility (CSR). The 'Teach CSR website', part of the India-UK CSR Education and Research project, offers free online basic course, "responsible business", which provides guidance to key issues, teaching methodologies, suggested readings and links to other relevant online education in CSR resources.

BPO boom bites NCC too
With an aim to cash-in the vast job opportunities created by the booming BPO sector, the National Cadet Corps (NCC) has introduced English-speaking courses in its curriculum to help its trainees gain employment. The organisation has already trained 40 of its officers to teach the students speak fluent English. "We are aiming to sharpen the English-speaking skills of the cadets so as to help them get employment in the BPO sector," NCC director-general Prakash S. Chaudhary said in New Delhi recently.

Britons fear losing white-collar jobs to immigrants
Thousands of British lawyers and accountants could lose out in job market to rivals from developing countries, including India, under plans to relax rules on how well-paid white-collar jobs in UK are filled. From July, employers will no longer have to advertise British jobs offering salaries over 40,000 pounds a year in Britain before they make the posts available to workers outside the European Union.

Talent deficit
S.C. Dhall
Public sector banks (PSBs) have now face a peculiar manpower problem and that too at the senior level. With one in every eight PSB official set to retire over the next three years, the banks will soon be hard pressed to fill the vacancies in their senior management level. The 27 PSBs had a combined workforce of 7.25 lakh employees at the end of March 2007, with 2.5 lakh employees belonging to the officer cadre and 4.75 lakh comprising clerks and sub staff.

rude shock
When it's time to leave a foul-mouthed boss
Lily Garcia
A reader writes: "I have a boss who is increasingly irrational and hostile, did I mention mean? I have tried to talk in `I feel ... when you ...' statements with no luck. It's not just me. I need a new job — problem is, I'm 57 and finding that very difficult. Also, my employer pays very well, so leaving would cost me bundles. I am close to the edge with this boss who seems to be provoking me sometimes — doing exactly what she knows I would hate. Several people have quit, so it would not be rational for her to invite me to leave also — she won't have anybody to work."

IT industry
'08 may see less play and less hike in pay
Rupa Jha
Keep employees happy' will be the mantra for IT and ITeS firms in 2008, although they will try to minimise the adverse impact of rupee appreciation with measures like lesser salary hikes and more working hours. While the salary hikes and additional perks would need to be tightened to cushion the pressure on profit margins due to rupee appreciation, the IT and IT-enabled service companies would find it difficult to retain employees due to emerging job opportunities in other sunrise sectors, experts believe.