Entertainment, media and retail are slated to be the hot work sectors in 2008, writes Usha Albuquerque
Get, set...
Show Building Skills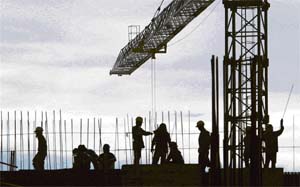 The infrastructure sector is expected to be a major job generator in 2008
There is much laughter and merriment in the air as we welcome in the New Year. It is the time of the year when we party hop in Delhi, dance on the beaches of Goa, attend glittering shows of Bollywood stars in Mumbai, or jet off to some exotic locale. Every year, the entertainment gets bigger and bigger, more organised and more extravagant. Yet no one is complaining, as the media and entertainment business booms forward. Whether it is the planning of events of all kinds — music, entertainment, star evenings, food fests, or fashion extravaganzas, the food service, the décor, the performances, or the management of such occasions, the rising discretionary incomes of larger numbers of people means more jobs in this glittering sector. Media is not far behind, as practically every event gets coverage. More money also means more viewers and larger audiences, as channels and shows vie for eyeballs.
It is the gains of the last couple of years that has set off the New Year with a bang. The booming economy, the rising stock markets, and the growing work opportunities imply a continuing surge in the jobs market in 2008. And while the entertainment industry may get all the media attention, there are many other sectors that can be relied upon for supporting this boom.
Shopping for jobs
At the possible top is retail that hogged much of the headlines last year — for reasons good and bad. Providing a range of services from lifestyle goods, fashion and clothing and even fresh foods, the retail industry is picking up momentum in smaller cities and towns too. With 500 people required to man a single mall, and 300 malls in varying stages of completion, organised retail in India is already feeling the pinch of recruitment. The retail business is looking for people at all levels, from the school passout with basic skills to the supply chain and retail management professionals, retail stores can provide new jobs to 50,000 young graduates and diploma holders.
With retail comes the real estate business, as large tracts of land are required for warehouses and shopping arcades. But this is not the only reason for the boom in real estate. Growing prosperity has put a demand crunch on housing, resulting in a huge increase in valuations of land and the rush for buying. From a business that was mostly identified with shady looking and unreliable agents, real estate has blossomed into a full fledged industry requiring trained professionals, MBAs and construction management specialists, to work in the growing number of multi-national, and domestic companies that are entering this field.
Ringing in more opportunities

No one, not even those in the telecom industry foresaw the gigantic leap in mobile services. The current number of mobile phone users at 205 million is a figure that was anticipated to be crossed only by 2010. Today, this is another sector looking for people—and not just electronics and telecom engineers and technicians to lay the network and operate and maintain the services. Marketing and customer services are just as vital for this sector and can take in large numbers with the necessary qualifications.

Hiring from abroad

Software engineers and information technology specialists will never go out of style. The IT industry continues to dominate the job market, and a growing number of large companies like Infosys, Wipro and TCS are now recruiting candidates from abroad, to fill the gap, both in terms of skills and numbers. Those interested in computers and software cannot go wrong with appropriate training. Computer systems analysts, database administrators, networking and computer scientists are among

the fastest growing jobs and will continue to be so for many years to come. This is because the information technology sector continues to expand, and so, there will be a continuing need to build skills in these areas.

Finance is one of the growing sectors that provide ample opportunities for ambitious young people. In terms of earning capacity who can match the big bucks of those working in corporate finance, investment analysis and portfolio management, and a range of financial services. For those with numerical strengths, and a strong instinct for sniffing money, there are a host of opportunities waiting in the year ahead, geared to lead you into the world of money management and finance.

After taking a beating for several years, the manufacturing industry appears to be gaining ground yet again. With large automobile manufacturers setting up facilities in India, and the spurt in the development of infrastructure, the scope for engineers has increased tenfold. From mechanical and automobile engineers to petroleum, civil and structural engineers, this demand is likely to continue over the next couple of years.

Room for more jobs

And finally, to bring down the curtain on the old year and open the doors for the new, is the enormous world of the hospitality industry. As we gear up for hosting the Commonwealth Games in 2010, we require to build 30,000 more hotel rooms. Along with them will come the range of services, from food and beverage, to travel services, souvenir, guide and ticketing websites services, entertainment and leisure facilities, all requiring trained professionals. With each hotel room generating a ripple of indirect jobs in construction, transport, and ancillary services, this could be yet another sector of tremendous growth.

However, this does not mean other sectors will lag behind. A booming economy has a tremendous need for qualified persons to provide a range of goods and services in practically every field. Education and healthcare, fashion and clothing, design and marketing are all sectors which will continue to draw large numbers. For young people entering the job market it is a good time to assess your strengths and build up your talents with the necessary training, as there will always be new vistas opening up for you. With the right dose of interest and motivation, tempered with the development of the right skills and training, you can drink to the health of a wonderful career ahead, as you welcome in yet another New Year.

The writer is a noted career expert