M A I N N E W S
The smile is back, Hillary wins New Hampshire
Ashish Kumar Sen writes from Washington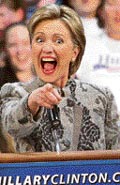 A delighted Hillary Clinton after the surprise victory. Barack Obama, however, said, "I am still fired up and ready to go". — AFP
Democratic Senator Hillary Rodham Clinton and Republican Senator John McCain won surprising victories in the New Hampshire primaries on Tuesday night keeping alive their chances of becoming their parties' nominees for the presidential election in November.
Democratic Senator Barack Obama, who surprised pollsters by edging out Clinton in the Iowa caucuses last week, finished a close second with 36 per cent of the votes to Clinton's 39 per cent.
Among the Republicans, former Massachusetts Governor Mitt Romney with 32 per cent of the votes finished second to McCain who got 37 per cent.
Conceding the contest to Clinton, Obama congratulated the former first lady on "a hard-fought" victory. "She did an outstanding job," he admitted, but told cheering supporters, "I am still fired up and ready to go."
Standing amid a sea of jubilant and relieved supporters, Clinton said, "I come tonight with a very, very full heart. And I want especially to thank New Hampshire."
"Over the last week, I listened to you and in the process I found my own voice," she said. "I felt like we spoke from our hearts and I am so gratified that you responded. Now together let's give America the kind of comeback that New Hampshire has just given me."
Clinton's use of the word "comeback" was a play on the "comeback kid" moniker her husband Bill Clinton used in 1992 when after a surprising second-place finish in New Hampshire he went on to win the Democratic nomination and upset then President George H.W. Bush in the general election.
Asked on Tuesday whether he would consider himself the front-runner if he were to win in New Hampshire, Obama said, "I'm never a front-runner; I'm always the underdog."
Later in the day, after conceding defeat, he said he 'always knew that our climb would be steep.'
Tuesday's victory capped an emotional six days for Clinton, who places a surprising third in Iowa on Thursday. Asked about the stress of the campaign she fought back tears saying, "This is very personal for me - it's not just political, it's not just public. I see what's happening, and we have to reverse it."
While some voters took this incident as a sign of weakness for others it was a welcome indicator that the steely candidate was human after all.
Former Democratic Senator John Edwards of North Carolina, who polled only 17 per cent to finish a distant third in Tuesday's primary, said he was determined to fight on. "Two races down, 48 states left to go," Edwards told his supporters. "Up until now about half of one per cent of Americans have voted. Ninety-nine per cent plus have not voted, and those 99 per cent deserve to have their voices heard because we have had too much in America of people's voices not being heard."
The win in New Hampshire energised McCain's campaign, which until now appeared to be floundering.
Also playing on the "comeback kid," he said, "You know I'm past the age when I can claim the noun 'kid' no matter what adjective precedes it," McCain said in Nashua.
"When the pundits declared us finished I told them I'm going to New Hampshire where the voters don't let you make their decisions for them," McCain told supporters.
Second-placed Romney, who had poured a significant portion of his personal fortune into his campaign, had hoped to win New Hampshire. "There have been three races so far," he said, referring to Iowa, Wyoming and New Hampshire. "I've gotten two silvers and one gold."
He had won Wyoming.
Former Arkansas Governor Mike Huckabee, a Baptist minister who pulled a surprise victory over Romney in Iowa on last Thursday, finished third but said he was happy to have done so well.