M A I N N E W S
Rain good for rabi crop
Sarbjit Dhaliwal
Tribune News Service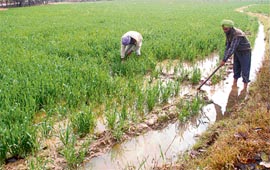 Farmers of Mirjapur village in Patiala district working at their wheat field on Wednesday. — Tribune photo by Pradeep Tewari
Chandigarh, January 9
Farmers as well as farm experts are jubilant as the widespread rainfall in the region for the past 24 hours has revived the hope of a bumper wheat crop in the state this year. Reports of rain have come from all parts of the region. There are reports of snowfall in the higher reaches of Himachal Pradesh and Jammu and Kashmir.
The post-monsoon season in the region had almost been rainless, thus causing worry among farmers and farm experts. In the absence of rain, in many states such as Madhya Pradesh, Rajasthan and Uttar Pradesh, the rabi crops could not be sown adequately. "Large tracts of land were not sown owing to rainless first two months of winter," said a farm expert.
"We have been waiting for the rain for the past some weeks. Because of the prolonged dry spell, farmers have been facing problems to irrigate their crops which had to be given a light dose of water almost on a weekly basis to save them from frost," said Balwinder Singh Sidhu, director, Agriculture, Punjab. Frost had hit the potato crop hard in many parts of the region. Moreover, the level of almost all major reservoir, including Gobind Sagar, Pong Dam etc. is substantially low this year. Water from reservoirs will have to be released cautiously for irrigation during the coming months.
Even the power generation and distribution has been over stretched in the absence of rain. It has got now a bit of relief. " As farmers needed to irrigate their crops, they have been pressing the PSEB to increase the supply of power to the farm sector", said a senior officer of the PSEB.
"Because of rain, temperature will remain low for the next two weeks and that will be good for the wheat crop which flourishes in cold conditions," said Sidhu. A rise in the temperature at this stage would have stunted the growth of wheat crop, he added.
"Rain has come at a most appropriate time", said Mandeep Singh Manshahia, a farmer from Mansa. He said for the past six days, frost had started damaging the mustard, gram and potato crops in the Malwa region, but now the rain will stop that damage to crops.
Meanwhile, the Centre has released Rs 63 crore under the Food Security Mission and the Krishi Vikas Yojana to Punjab to enhance agriculture growth to 4 per cent in the state. At present, it is around 2 per cent.