BACK OF THE BOOK
The Unwaba Revelations: Part Three of the GameWorld trilogy
by Samit Basu. Penguin Books. Pages 508. Rs 295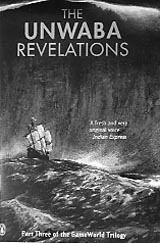 Under the all seeing eyes of the assembled gods, armies are on the move. The Game has begun. And when it ends, the world will end too ...
In The Unwaba Revelations, the third and concluding part of the GameWorld trilogy, a way must be found to save the world; to defeat the gods at their own game. A daunting prospect under any circumstances, made worse by the fact that the gods, who control all the heroes, are blatantly cheating by following only one rule — that they cannot be defeated by their own creations.
As epic battles ravage the earth, Kirin and Maya, guided only by an old, eccentric and extremely unreliable chameleon, and egged on by the usual rag tag gang, carry out their secret plan; a plan so secret that, in fact, no one involved has any idea what they are doing!
Monsters, mayhem, mud swamps; conspiracies, catastrophes, chimeras; betrayals, buccaneers, bloodshed — The Unwaba Revelations continues the roller coaster journey that began with The Simoqin Prophecies and gathered momentum with The Manticore's Secret. Traversing earth, sea and sky, realms both infernal and celestial, worlds both imagined and material, this book will draw you irresistibly into a tantalising, action-packed, epic race to reclaim the flawed, magical world of its heroes.
Dynamic Memory Windows: Vista and Office 2007
by Davinder Singh Minhas. Fusion Books. Pages 424. Rs 200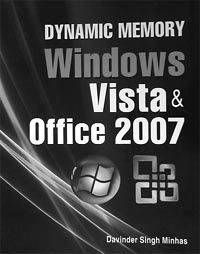 In the hi-tech world, not knowing about the computer is nothing less than illiteracy. As we know that computer is purely a practical subject so in this book, the interesting journey of the Windows Vista and Office 2007 are covered in very simple and practical manner.
Key features of Windows Vista are a complete new look, parental control feature, improved networking and security. Also included are a new internet explorer and a new E-mail programme.
The book gives the key features of Office 2007, Microsoft Office Word 2007, Microsoft Office Excel 2007, Microsoft Office Access 2007 and Microsoft Office Power Point 2007. A new interface introduce s ribbon, which replace the menus and toolbars. The language of this book has been deliberately kept simple, keeping the home user and students in mind.