Tribute to a thespian
Aradhika Sharma
Vijay Tendulkar Omnibus
Ed. Makrand Sathe. Arvind Kumar Publishers, Gurgaon. Pages 345. Rs 495.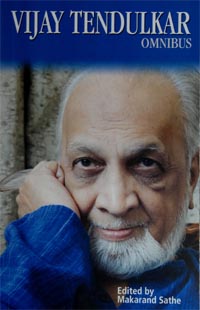 Vijay Tendulkarís credo is: "My role is that of a seeker who believes in life, and tries to seek it honestly as a writer and as a common man." He has written prolifically for over 50 years and is one of the significant contributors to post-Independence literature, both as a writer and as a dramatist. To attempt to compile an omnibus of this great writerís works, and sift his works for what is most significant, is no easy task. Yet, the editor Makarand Sathe has attempted to do it.
Tendulkarís works are preceded by an essay by Sathe. He prefers not to talk much about his choice of the works but says that he has tried to give a broad outline of Tendulkar as a writer under four general heads: his historical placement, factors influencing his writing, major themes of his works and the style that was patented by Tendulkar alone.
However, in the book, Sathe tries to get together a compilation that will give an overview of the prolificacy as well as the range and quality of the work of this acclaimed author. Tendulkar was born in a middle class family, yet his worldview actually saw the stark reality of life and the post-Independence changes. In his writings, he snatched away the rose-tinted glasses perched on the noses of the middle class and showed them the bleak truths of life. He was fascinated by the themes of violence and power. He explored exploitation and the relationship between the exploiter and exploited which he felt was cruel, yet eternal. These were manifested into his works. In fact, one of his earlier plays, Vulture (Gidhade) was so brutally honest about examining the themes of aggression and greed within a family that even he was shocked at the violence that erupted when it was staged 13 years after it was written (Dr Sreeram Lagoo and Satyadev Dubey had staged it). Yet, this play has, surprisingly, not been included in this omnibus.
The remarkable thing about Tendulkar is that even though he explores realities of power, passion and sexuality, he never does preach. He has often revealed gender politics, where the woman is the suppressed one and his empathy is clear yet there is no sermonising. He simply puts the condition of the woman before the reader or the viewer and lets him be horrified! Plays like Kanyadaan, Shreemant (not included in this book), and Silence! The Court is in Session, Kamla and Sakharam Binder (which have been included) all show the power inequality inherent in the man-woman relationship, whether in a social, sexual or political milieu.
It is impossible to encapsulate all of Tendulkarís works within one anthology, so Sathe has chosen some of his stories, excerpts from his major plays, personal essays and a novel for the omnibus. These are representative of his lifeís works and his changing vision over the years.
The selected stories include Who would Love Someone Like me? óhis first piece of fiction written at a young age; The Story of a Man, The Crippled Old Man and his Secretary and The Question. The play section comprises The Serpent and the Mistress, a one-act play and excerpts from his famous plays, Sakharam Binder, Silence! The Court is in Session, Ghasiram Kotwal and Kamla.
Then, there are his personal essays among which are Father and Our CatóA Study. The last section comprises an excerpt from his novel, Kadambari Doan, which means, Novel Two.
Vijay Tendulkarís oeuvre is so wide that there will always be difference among aficionados about what merits selection and why. However, the omnibus is a good resource for scanning some of the great writerís significant works, especially for those who want to either get introduced to the writer or for those who want to refresh their acquaintance with Tendulkar.