The value of doing nothing
Harbir K. Singh
Retired but not Tired
by B. K. Trehan and Indu Trehan. Roli Books. Pages 304. Rs 295.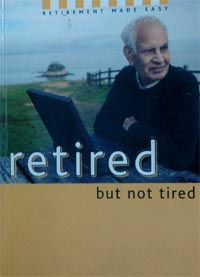 This book is like a guiding star, showing the way to all senior citizens to make life more fruitful, productive, active, healthy, purposeful and inspiring after retirement. By this time, you are almost free of all responsibilities of educating and settling children. Though retirement can be very emotionally upsetting after leading an active life, with little planning it can be the golden phase of your life—most satisfying and productive.
Now is the time to pursue your own desires, needs, hobbies that you had overlooked during the hectic period of your life. Also, staying connected with your family, near and dear ones is very important, for they are the great source of inspiration and emotional security.
The authors discuss the various problems faced by senior citizens and how they can overcome them. One of the major problems is of doing nothing after retirement. In the beginning, they might find it very relaxing and comfortable but after some time, the feeling of worthlessness creeps into many a people before they find a purpose in life. So, leave all disappointments and worries behind, embark on the path of self-discovery and self-growth, learn new skills by using experience, shed false pride of designation and rank, accept the reality to move forward and discover your true self.
The authors have given few helpful suggestions: be an entrepreneur, join some social organisation, help the needy, spread environmental awareness, start an old age home, conserve heritage, fight corruption, join a laughter club, start learning new languages and alternate healing methods. You can pursue your personal interests and use hobbies for financial gains. You can write a book, learn computer, etc., as age is no bar. You are still 'young' for new pursuits.
Another major challenge is of financial security. You must manage your finances carefully so that by the time you retire, you are financially well off—you have a house, insurance, money for medical care and other day-to-day needs. Pension, gratuity, insurance and other investments can surely help you begin the new phase of life with ease. These are the basic requirements, which have to be looked into. The authors explain these topics in detail.
Staying healthy, and active, till the ripe old age is a big challenge. Everyone wants good health, energy and enthusiasm to live and enjoy life completely—physically, mentally, emotionally and spiritually. According to the authors, the basic prescription for a healthy and long life includes nutritious diet, regular exercise, healthy lifestyle, positive attitude, etc. A chapter discusses nutritious diet, suggesting what, when and how much should be eaten in a day.
Yogic techniques can help us discipline ourselves. You can keep yourself fit and healthy by doing yoga regularly. The book describes various asanas with the help of photographs. It also discusses spirituality, which is the foundation of our life as it purifies our heart, nurtures positive emotions and compassion for others, increases contentment, gratitude, etc.
The book also details various safety precautions that should be taken by elders at home.
Senior citizens as well as youngsters can learn a lot from this book. On the whole, a good book for all to read.