Novel way to go
What should you do if you want to get your first novel published? Boyd Tonkin,
Literary Editor of The Independent answers all that first-time novelists always wanted to
know but were afraid to ask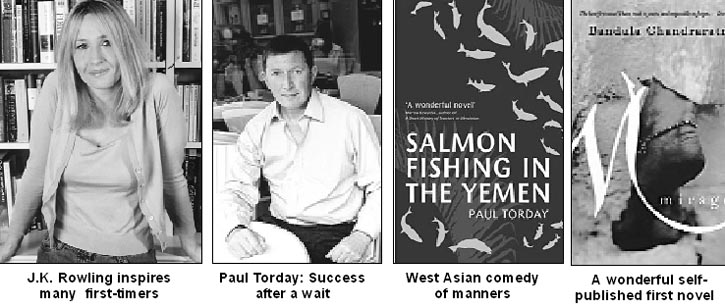 Former retail manager Catherine O'Flynn from Birmingham has won the Costa First Novel Award for her fiction debut, What Was Lost, after the manuscript was rejected by 14 literary agents. The novel, set in the kind of Midlands mall where she worked, also reached the longlists of the Orange and Man Booker prizes. Her victory will revive the hopes of the thousands of wannabe novelists who, in spite of the huge odds stacked against them, bombard agents and publishers with their creative offspring. Also recently, J K Rowling – another survivor of multiple rejections – broke down in tears during an ITV interview when she returned to the flat in Leith where she lived while writing Harry Potter and the Philosopher's Stone. End-of-year statistics showed that the final novel in the septet, Harry Potter and the Deathly Hallows, sold more than 4 million copies in the UK alone during 2007.
So will fiction ever make a writer rich?
No. No. A thousand times: no. Even successful career novelists earn infinitely less from their writing alone than the rumours would suggest. As Martin Amis pointed out during one of the periodic media squalls over his large advances, a hefty-sounding deal averaged out over the time that a book or three takes will often result in something closer to the annual salary of a provincial solicitor. And that's for the starriest names. Many illusions about the wealth of up-and-coming authors arise because the media publish wildly exaggerated estimates of the sums involved. Next time you read about a "`A31m advance", try dividing by 10 – at least.
If it works, could you give up the day job?
Almost certainly not. For briskly marketed and well-reviewed debutants, we're usually talking about the sort of adult pocket-money that a bedroom eBay business might easily exceed. The few exceptions take the form of chance lightning-strikes, usually with a bidding auction involved, or carefully-planned new brands in mass-market genres such as crime. Plenty of acclaimed writers of fiction never give up their previous occupation, or else acquire a new one (in teaching or journalism, for example).
I still want to try. Where can I get the best advice?
Be wary of creative-writing courses offered as part of local adult-education programmes. In many cases more therapy than apprenticeship is involved – unless you trust the tutor. In contrast, established MA courses in universities will demand strong evidence of talent and commitment (even if part-time) but should deliver a climate of encouragement and serious advice, both artistic and professional. What no course can ever do is guarantee eventual publication. Several reliable guides can keep your head out of the clouds and your feet on the ground. The annual Writers' & Artists' Yearbook (A&C Black) and The Writers' Handbook, edited by Barry Turner (Macmillan), always offer solid information on the state of the market and the changing requirements of agents and publishers, along with those all-important contact details.
Among the many authors who offer help to their aspiring peers, no one has a better record than former publisher Alison Baverstock: check out the new edition of her Marketing Your Book (A&C Black). The question of who precisely to approach (publisher or agent, and which ones?) and how to do it will vary from case to case. One size does not fit all.
Aren't unsolicited works automatically rejected?
Always check whether newcomers can even make it through their door. Horror-stories do abound of future bestsellers batted back unread. One recurrent media trick involves sending some classic work to the gate-keepers of literature and then scorning their ignorance when it comes back with a standard rejection letter. Budding writer David Lassman did this last year when he sent out chapters from Jane Austen novels. Only Alex Bowler at Random House wrote back warning that "there is such a thing as plagiarism". Does that mean that no one else who replied could spot an Austen? Worse, probably: they hadn't even read the work.
But tales of slush-pile to stardom do come to light, don't they?
Indeed so, but remarkably few. Businessman Paul Torday, a fiction debutant at 60, only heard from the agent Mark Stanton six months after submitting the manuscript of his Middle Eastern comedy of manners, Salmon Fishing in the Yemen. It was worth the wait. After hardback success and discussion on radio and TV, the paperback edition of his novel has sold 160,000 copies since June.
On the whole, smaller agents and publishers will deal with a lower volume of submissions and may have more time for cold-calling manuscripts. But make sure that they have in the past accepted the kind of fiction that belongs on the same planet as yours.
Is it worth trying to self-publish, or using a vanity publisher?
Some old-style vanity houses were outright crooks. Some are wholly respectable businesses that exercise quality control but ask authors to bear or share the costs. And look beyond the misleading "vanity" label. Self-publishing and book-packaging offer different kinds of do-it-yourself arrangements, and many gifted authors have benefited from them. When I judged the Booker Prize, a beautiful and moving self-published novel reached our long-list: Mirage by Bandula Chandraratna. Never shun the option of DIY. Just avoid the sharks.
What about publishing on the Internet?
It's a false dichotomy: Print and online publication will work best in tandem. Print-on-demand houses can ensure that your digitally-stored masterwork can come to market in paper garb whenever called for, and in the right numbers. Again, the standard guidebooks will tell you where to look.
As for online publication as a route to riches: beware the hype. The idea of a fast blog-to-book track for tomorrow's bestsellers has been touted for years, but the few genuine hits have come from "memoirs" real or imaginary (starting with Belle de Jour).
If the mere theoretical availability for your work is all you crave, just upload your 21st-century answer to War and Peace on to a personal website and sit back happy to have "published" it. But if that level of exposure could satisfy you, you probably wouldn't have read this far.
By arrangement with The Independent
Should I bother to try to publish my novel?
Yes...
l Hundreds of first novels appear each year. Some do well, and not all of their authors are young, beautiful or already famous
l No agent or publisher ever knows for certain what will work. Their doors, and minds, must stay open out of self-interest
l Beyond the traditional houses, digital media have widened the choices for DIY publishing and greatly improved its status
No...
l Serial rejection and long months of disappointment await for the vast majority of wannabe novelists
l Writing your book, and making sure that friends and family can read it, might amount to as much authorship as you really want
l Far too many published novels clog an overcrowded marketplace. Even if you made it into print, your book might well sink without trace.