ART & LITERATURE

'ART & SOUL
ENTERTAINMENT

TELEVISION

GARDEN LIFE

NATURE

FOOD TALK

CONSUMER RIGHTS

HOLLYWOOD HUES

BRIDGE

ULTA-PULTA
EARLIER FEATURE

TRAVEL

RELATIONSHIPS

DREAM THEME

TIME OFF

Total recall: Mission violated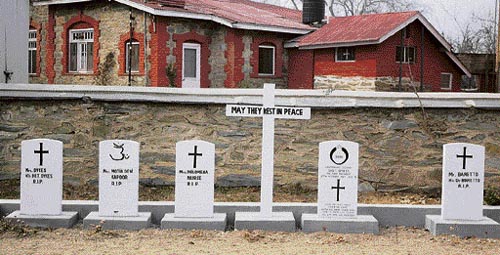 The graves of the six people killed in the attack by the armed raiders are maintained
in the best Christian tradition. — Photo by Amin War
The attack on the Catholic mission in Baramula by the invading tribes from Pakistan on October 27, 1947, was a defining moment in the history of Jammu and Kashmir. The jihadis had to pay a heavy price for the killing of four women, including a nun. A.J. Philip retells the story based on Andrew Whitehead's book on the sacking of Baramula
WHEN I received the then BBC Correspondent in India, Andrew Whitehead's article for publication about a decade ago, I was in a dilemma. It made poignant reading but it was by no means an opinion piece that could go on the editorial page. The write-up dealt with the attack on the Catholic mission in Baramula by the armed tribes from Pakistan soon after Independence. I was not sure how my editor would react if the article was published.
Little India away from home
The over-the top desi touch at Jackson Heights in the US leaves an Indian visitor both nostalgic and amused, writes Rashmi Talwar
Nothing excites you more than a piece of homeland on foreign shores! At "Little India" ensconced in a maze of American neighbourhoods at Jackson Heights in Queens, a borough of New York City, it is almost impossible not to fall captive to the mouth-watering charms of fresh samosas, pakoras, kichori and chat.
Saints and soldiers
Three Sikh saints of Naurangabad played a major role in mobilising the masses against the British after the death of Maharaja Ranjit Singh, writes Kanwarjit Singh Kang
During the middle of the 19th century, Naurangabad, a small village southeast of Tarn Taran, became nearly as important as was Lahore, the capital of Punjab. Naurangabad remained the pivot of vigorous pro-Sikh raj and anti-British activities for more than a decade under Baba Bir Singh, Baba Khuda Singh and Baba Maharaj Singh, the trio, who played the principal role of enthusing patriotism among the masses.


Boy uninterrupted
As Bollywood's biggest 'work in progress', Akshay Kumar continues to reinvent himself,
says Derek Bose
Akshay Kumar has become omnipresent. He is everywhere — sprinting across hoardings on terrace tops, popping out of magazine covers, grinning on television screens, gliding about on bus panels, scowling from roadside posters, peering out of press-ads`85 There's just no way you can escape him these days. In fact, no Bollywood star in recent times has enjoyed the amount of sustained visibility over the past one year, the way this young man is experiencing.
Bollywood bonanza
Romance, thrillers, period dramas and much more is in Hindi cinema's pipeline this year,
reports Arpana
The year 2007 gave Bollywood a parting hit in Taare Zameen Par, Aamir Khan's directorial debut about a child with learning disability. The golden run is likely to continue in 2008 too with the New Year releases promising a bouquet of romance, thrillers and period dramas. The first mega release of the year is Sahara One Motion Pictures' My Name Is Anthony Gonsalves. It will introduce newcomer Nikhil Dwivedi, who is already being billed as a Rs 1 crore star.


Haven for the aged
Nirmal Dham in Karnal is a home where senior citizens can live their twilight years with dignity and grace, reports Ramandeep Singh
Nirmal Dham, situated in Model Town, Karnal, has been serving the old for nearly a decade. Set up in 1998 by Sant Amrik Dev, uncle of the late astronaut Kalpana Chawla, and run by the Labhmal Kartar Kaur Charitable Trust, it houses an old-age home and a school. Two more schools, located in Sadar Bazar and Zarifa Farm, a vocational training institute and an orphanage also come under the aegis of the trust.
Fit companions
Accessories do not have to wait in the wings any more. They, in fact, complete the look and are much in demand today, says Anju Munshi
The hit film of 2007, The Devil Wears Prada, with a demonic fashion editor portrayed by Meryl Streep and a bumbling newcomer to the glitzy world, Anne Hathaway, offered an insight into how some fashion statements work and some don't. Miracles can be achieved with small yet subtle changes in one's get-up with accessories. A simple pair of jeans complimented by a huge iron bracelet or a pendant the size of a saucer can change the whole attire.