Little India away from home
The over-the top desi touch at Jackson Heights in the US leaves an Indian visitor both nostalgic and amused, writes Rashmi Talwar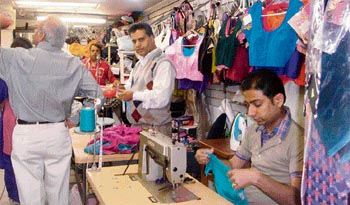 Indians with a cutting edge:

Tailors at Jackson Heights — Photos by the writer
Nothing excites you more than a piece of homeland on foreign shores! At "Little India" ensconced in a maze of American neighbourhoods at Jackson Heights in Queens, a borough of New York City, it is almost impossible not to fall captive to the mouth-watering charms of fresh samosas, pakoras, kichori and chat.
For an Asian it is just the place that comes as a "homely antidote" after the glitz, glamour, flashing neon lights, water cruises, pubs, nightlife, beaches, pizzas, burgers and hot dogs of America. A virtual paradise for every Indian, this locality makes you feel as though you are home. Some of the top Bollywood stars make a beeline here to unveil their shows. No doubt then that this tiny locality offers everything authentically Indian — a rarity in other parts of the US.
Dotted with Indian shops choc-a-block with jewellery, sarees, music, grocery, and other paraphernalia, the locality is home and offers business to most South Asian communities, including Pakistanis, Sri Lankans and Bangladeshis. However the 'Indian diaspora and display' dominates every nook and corner of the place, earning it the sobriquet of "Little India".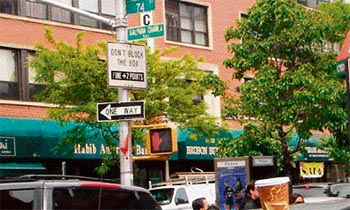 Road to recognition:

A street has been named after Kalpana Chawla in New York
Streets here are abuzz with beats of pop bhangra, latest Indi-pop, ghazals and old Hindi songs. There are life-size posters in music shops of Preity Zinta, Rani Mukerjee and muscle-flexing Salman and Shahrukh Khan besides popular Punjabi singers Babbu Mann, Jazzy B, Hansraj and Gurdas Mann. Along with music and movie releases, the extravaganza of forthcoming shows on posters adds desi glamour to the street.
There are also posters of spiritual and religious organisations, offering details of their organisations and programmes. So you have announcements of bhakti sangathans, Swami Ramdev's yoga camp, Baisakhi mela celebrations, meditation classes and even Hindi plays playing at a community temple.
If the Indian culture and colours seem overplayed and flamboyant, a street named Kalpana Chawla Way — as a tribute to the Indian astronaut who died during a space expedition — truly makes an Indian proud.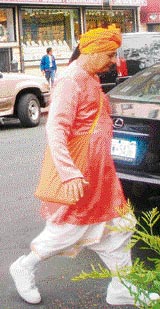 CHANTING DESI MANTRA: A pandit heading for work
The street in Little India has everything that an Indian would need in the US. There are 120V to 240 V compatible electronics, fixo for pasting beard along with special round-tipped scissors for moustaches. Surprisingly, kali mehndi (henna) is more in demand than hair colours.
If there's a wedding in the family, there's no need to fret. For, all the items required in the ceremony and rituals are available here: sehras, kalirey, chura, lehangas, nariyal, banana leaves, mauli, kum-kum, trendy bindis, etc. Also, on sale are havan kunds, portraits of the 10 Sikh gurus, idols of gods and goddesses as well as strings of rudaraksh. Add to this CDs of Gayatri Mantra, bhajans, Sufi songs, Guru ki bani and shabads.
It is a little surprising to see a number of elderly Indians working at these stores. There are turbaned 'old' men pressing leaflets to passers-by for saree sales at glittering stores or elderly Punjabi women displaying CDs and DVDs of Bollywood masala and music before prospective customers. Manjeet, alias Maan, a shop owner, says it is common to find "pop-mom shops" among the Indians here. It is common for Indian families to run businesses that involves the elderly in the family," he discloses in 'Pinglish'— a mix of Punjabi and English.
While fresh karelas, bhindi, tori and mirchis jostle for space with mini tomatoes, baby corn and snow-peas outside some grocery stores in neatly lined cases, tindas and parbal shunned back home as the poor man's meals, are really a treat here with the magic of Indian spices. Interestingly the most sought after item is the "curd starter" — jaag— that promises to prepare the perfect Indian curd.
Mouth-watering snacks like papri chat, honey roasted nuts, kebabs, tikkas, and rasmalai are enough o make one nostalgic. Fragrance of sandalwood incense emanates from jewellery and multi-ethnic stores. Surprisingly, the gold jewellery displayed here is hideously loud and garish.
Perhaps this is the only place where pizzas are sold cheaper than Indian delicacies like kalakand and kaju ki barfi. While the barfi comes for $7 a piece, two large slices of pizza and a can of soda are sold for $4.
A foodie could find a sumptuous buffet ($120 to $150) of chicken tikka, tandoori drumsticks, malai kofta, palak paneer, kadai ghosht, chicken and goat curry, raita, palao, giant glass of lassi, chach (buttermilk) or panna (mango drink) with kheer, gulab jamun or rasgollas as desert. Even halal meat is available. Sadly, however, mostly the Mexican variety of mangoes are available here and there are hardly any varieties of desi mangoes.
There are 'authentic' tailors for salwar kameez, saree blouses, kurtas and yoga pants. Flooded with orders, they charge the moon for latest necklines like halters and back-strings styles of saree blouses and salwar suits. "We keep in touch with the latest fashion trends from Indian TV serials," smilingly admits Vinod Tiwari, a tailor here for the last 30 years.
Anything Indian or Asian is hot news with about 20 weekly newspapers coming in English, Punjabi, Hindi and Gujarati. The most popular are India Abroad, Desi Talk, India New England, India in New York, India Weekly In USA, India Tribune, Aji (Punjabi), Independent Voice, Pardesh News (Punjabi), Indus Business Journal and Desi Match (for matrimonial purposes).
Interestingly, the street wares are too Indian by even Indian standards. For instance, a handy sewing kit comes with a mattress needle — the typical Punjabi kandhuee used by our grandmothers to sew quilts.
But perhaps the quaintest sight was to see a panditji complete with saffron robes and all.