Saints and soldiers
Three Sikh saints of Naurangabad played a major role in mobilising the masses against the British after the death of Maharaja Ranjit Singh, writes Kanwarjit Singh Kang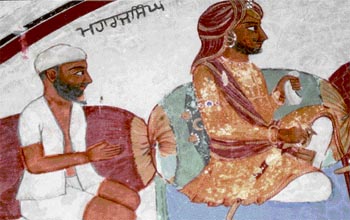 Portraits of Maharaj Singh and Guru Baba Suraj Singh
During the middle of the 19th century, Naurangabad, a small village southeast of Tarn Taran, became nearly as important as was Lahore, the capital of Punjab. Naurangabad remained the pivot of vigorous pro-Sikh raj and anti-British activities for more than a decade under Baba Bir Singh, Baba Khuda Singh and Baba Maharaj Singh, the trio, who played the principal role of enthusing patriotism among the masses.
Bir Singh was born at Gaggobua in district Amritsar. He joined the Sikh army but soon resigned to become a preacher of Sikhism. He set up a dera at Naurangabad which became a popular pilgrim centre where, it is said, 4,500 visitors were fed in the langar everyday. During the anarchy at the Sikh court after the death of Maharaja Ranjit Singh, Sikh soldiers and peasantry began to turn to him for guidance. Many courtiers who opposed Hira Singh Dogra, the prime minister of the Sikh court, including Atar Singh Sandhawalia, prince Kashmira Singh and prince Peshaura Singh, Jawahar Singh Nalwa, son of the celebrated Hari Singh Nalwa; Diwan Baisakha Singh also joined Bir Singh's dera.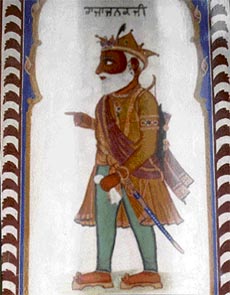 Raja Janak. — Photos by the writer
Bir Singh's influence grew so immense that a volunteer army of 1200 musket men and 3000 horse attended upon him. Hira Singh Dogra took it a challenge to his own position and rushed a strong force to subdue Bir Singh, who, however, forbade his Sikhs to fight back saying, "How can we attack our own brethren?" Bir Singh, prince Kashmira Singh, Atar Singh Sandhawalia and hundreds of Bir Singh's followers lost their lives in the heavy cannonade on 27th Baisakh 1902 v.s. (May 7, 1844). But for this act Hira Singh Dogra had to pay for with his own life soon on December 21, 1844.
Baba Khuda Singh was born in Syamgarh village near Kurukshetra. He joined service in police but left it soon to become a disciple of Bir Singh. He travelled extensively to preach the Sikh tenets. Being an associate of Bir Singh, the British saw him with suspicion and confined him at Wazirabad and later at Gujranwala. He was sentenced to jail for three years on suspicion of being in possession of arms. He died in Lahore in 1861 and his followers are said to have brought his ashes to Naurangabad where a three-storey octagonal samadh was built in his memory.
Baba Maharaj Singh was born at Rabbon in Ludhiana district. His real name was Nihal Singh. As a disciple of Bir Singh, he invariably addressed everyone, low or high, with the word maharaj which ultimately earned for him the appellation of 'maharaj'; hence the name Maharaj Singh.
After the death of Bir Singh when the next mahant of the dera was to be chosen, most of the devotees favoured Khuda Singh, who, however, in humility, declined and recommended the name of Maharaj Singh who then became the head of the Naurangabad dera.
When he was involved in Prema conspiracy case i.e. in a plot to murder the British resident, Henry Lawrence and other pro-British officers, he became a revolutionary and joined Mul Raj of Multan in revolt against the British. He campaigned against the British in the battles of Ramnagar, Chelianvala and Gujarat and made Dev Batala, near Jammu, his secret headquarters to carry on his fight. The British resident at Lahore was so afraid of his influence that he announced Rs 10,000 on his head. He was arrested in December 1849 at Adampur, near Jalandhar, when he was on a mission to enlist support of Sikh regiments and was deported to Singapore where he died on July 5, 1856.
The Deputy Commissioner of Jalandhar, Dr Vansittart, who arrested him, paid tributes to this saint-soldier in these words: "The Guru is no ordinary man. He is to the natives what Jesus is to the most zealous of Christians."
With the death of the trio, the significance of Naurangabad began to diminish but to perpetuate the memory of these three saint-soldiers an annual fair is held here on 27th of Baisakh near Gurdwara Baba Bir Singh.
Built up of small bricks, the gurdwara stands on a base approximately 20 feet square; the walls reach a height of about 18 feet at which point, the base of the dome which tops the building, takes over. Every inch of the interior, except the vault of the dome, was painted with murals around the middle of the 19th century.
The themes painted are exhaustive. Portraits of Sikh gurus appear prominently. Guru Nanak Dev is painted accompanied by Bhai Bala and Bhai Mardana and his two sons Sri Chand and Lakhmi Das, sitting respectfully before him. Among the Hindu themes, Lord Vishnu, depicted in his incarnations as a saviour of mankind or as the destroyer of evil takes conspicuous place among the murals.
There are panels illustrating Raja Janak, Hanuman, Narad Muni, Dhanna Bhagat and Bhagat Kabir. Birds, including peacock, also appear. Then there are portraits of the Babas related with the dera viz. Bir Singh, Maharaj Singh, Suraj Singh, Bikram Singh, Kahn Singh, Sujan Singh and Khem Singh. Not far off from the gurdwara stood the three-storey octagonal samadh of Baba Khuda Singh which also had murals related to the Sikh gurus and illustrated several local birds. But, this edifice is no longer there. A visit to Naurangabad still refreshes memory of a tumultuous past of a failed but a justifiable mission.