Boy uninterrupted
As Bollywood's biggest 'work in progress', Akshay Kumar continues to reinvent himself,
says Derek Bose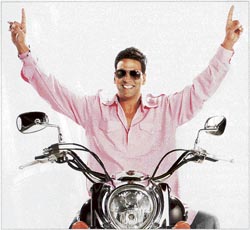 Khiladi not out: Akshay's forthcoming films are Singh is Kinng and Tashan
Akshay Kumar has become omnipresent. He is everywhere — sprinting across hoardings on terrace tops, popping out of magazine covers, grinning on television screens, gliding about on bus panels, scowling from roadside posters, peering out of press-ads`85 There's just no way you can escape him these days. In fact, no Bollywood star in recent times has enjoyed the amount of sustained visibility over the past one year, the way this young man is experiencing.
And why not?
In 2007, Akshay pulled off a string of back-to-back hits — Namastey London, Heyy Babyy and Bhool Bhulaiya. The momentum set by this hat trick enabled a below-average and otherwise non-starter, Welcome to stand up to a far more endearing and power-packed Aamir Khan-starrer, Taare Zameen Par. Now, all eyes are on the release of Singh is Kinng and Tashan.
Akshay's victory run actually began a year earlier with Bhagam Bhag and Phir Hera Pheri, both mindless rib ticklers from the Priyadarshan stable. Their success not only eclipsed the flops he turned out in 2006 (such as Humko Deewana Kar Gaye, Jaan-E-Mann and Mere Jeevan Saathi) but gave him the opportunity to relocate into the comedy space. It was a defining year for the actor headed for a mid-life crisis — he was not getting any younger to continue as action hero nor had he become old enough to play character roles like Om Puri and Amitabh Bachchan.
To me, however, what makes Akshay Kumar a fascinating subject is that he is one senior actor who has not aspired for Bollywood's top slot. At age 41, he may now be considered a threat to the quartet of Shah Rukh Khan, Salman Khan, Aamir Khann and Hrithik Roshan.
But right from the beginning of his career in the 1990s, even as he had everything going for himself and was cast repeatedly in the first lead, playing the title role in several films, never did he try competing with any of the reigning superstars. Instead, he has accepted roles they rejected and appeared in mediocre double-hero films time and again. Like Dharmendra and Jeetendra in the past, he remained content being part of the second rung of heroes in Bollywood.
The price he has had to pay for being so easy-going and accepting is there for all to see. His first film, Saugandh in 1991 clearly established that with his looks, physique and training in the martial arts, he could outclass other action heroes of the time like Sanjay Dutt, Sunny Deol and Ajay Devgan. He proved his backers right with Mr Bond (1992) and most significantly, with the 'Khiladi series' — Khiladi (1992), Main Khiladi Tu Anadi (1994), Sabse Bada Khiladi (1995), Khiladiyon Ka Khiladi (1996), Mr & Mrs Khiladi (1997), International Khiladi (1999) and Khiladi 420 (2000).
There were several other such action flicks — from Ashaant (1993) and Mohraa (1994) to Insaaf: The Final Justice (1997), Aflatoon (1998) and Hatya: The Murder (2004). Any other actor would have sedulously consolidated his position solely on the strength of these recurrent hits, but Akshay frittered away his chances. During this most productive period of his career, he was making news for his string of off-screen dalliances — from Pooja Batra to Raveena Tandon to Rekha to Shilpa Shetty.
Another intriguing facet about this actor is that he has never really belonged to any clique or camp within the film fraternity. Even when he was new to Bollywood — fresh from his stint as dishwasher in some Hong Kong restaurant — he did not seek out a godfather. He chose to be the proverbial lone ranger instead. Today, much as he can happily walk into any of Bollywood's powerful camps, be it Yashraj Films, Mukta Arts, Dharma Productions or Red Chillies Entertainment, Akshay is happy working with a bunch of middling producers like Dharmesh Darshan, Vipul Shah and the Nadiadwala Brothers. Tomorrow, it could be a completely unknown producer he might opt for. In that sense, he is one star-actor who has retained his independence and takes his chances, regardless of the consequences. This is rather unusual at a time when everyone in Hindi cinema is looking for the safety of numbers and the security of support systems.
Yet another factor that sets Akshay apart is his choice of roles. No actor, with any aspiration of becoming a superstar, would willingly demolish the image once created in the minds of the public. Akshay Kumar's abiding image has been one of an action hero. Yet, he has periodically tried to negate that image by dabbling with romantic potboilers (Dhadkan, Dil To Pagal Hai, Namastey London), family dramas (Bewafaa, Waqt: A Race Against Time), patriotic sagas (Ab Tumhare Hawale Watan Saathiyon) and a host of offbeat thrillers like Dillagi, Aitraaz, Ajnabee and Khakee. He simply does not cease to surprise. As Bollywood's biggest 'work in progress', he continues to reinvent himself.
Clearly, he holds an agenda bigger than being just another bankable star. By showcasing his versatility, he is essentially extending his shelf life. He knows that he cannot live by action dramas or syrupy romances alone; a time would come when he will have to explore other genres. Rather than start all over again from scratch and compete with his contemporaries at that stage, he decided to sink his teeth in a variety of roles whenever he got the opportunity. And the best part is that he has been able to make a success of most of them.
But does that make Akshay Kumar a good actor?
Now versatility is one thing and pulling off a credible performance, quite another. For instance, Naseeruddin Shah is a good actor, but not versatile (ask him to prance around trees and you would know.). Akshay, in contrast, can dance, kick, box, perform daredevil stunts and more. But he does not abide by a recognisable school or style of acting. He has a weak smile, a weaker voice and more often than not, lets his fists do the talking. The articulation of his limbs and other parts of his body is severely limited to just that. Charisma? It is just not there. Ditto for the ruggedness that is supposed to go with his persona. So what makes him so hot?
It is the conviction he brings to every role he does that has made him such a hit. He is not a thinking actor and would never question a director even if he had to make love to a lamppost, so to speak. For him it is a job to be done and he better do it with all sincerity. This is why we see him so often in utterly absurd situations and he is able to sail through them with incredible panache and confidence. But through it all, you can detect that the joke is not so much on him or on his acting ability as on the audience that wants more of such inanity. Bollywood needs a performer like him.