Haven for the aged
Nirmal Dham in Karnal is a home where senior citizens can live their twilight years with dignity and grace, reports Ramandeep Singh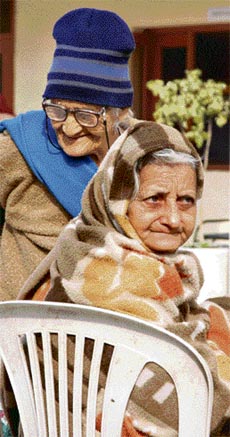 Satyawati Sharma (left) and Sudha Mohan enjoy the sunshine in the autumn of their lives at Nirmal Dham in Karnal. ó Tribune photos by Ravi Kumar
Nirmal Dham, situated in Model Town, Karnal, has been serving the old for nearly a decade. Set up in 1998 by Sant Amrik Dev, uncle of the late astronaut Kalpana Chawla, and run by the Labhmal Kartar Kaur Charitable Trust, it houses an old-age home and a school. Two more schools, located in Sadar Bazar and Zarifa Farm, a vocational training institute and an orphanage also come under the aegis of the trust.
The schools, which have a total strength of 3,500 students, are unique because only children of those parents are admitted who are too poor to send them elsewhere. No fee is charged from the students and even the uniforms are provided free of cost. The examination fee, too, is paid for by the trust.
According to Madan Gulati, director, Sant Nikka Singh Public School, the main school of the trust, which has 1,100 students on its rolls, though the children are from economically weaker sections of society, the results are excellent. The Nikka Singh Institute of Vocational Training Institute imparts training free of cost to 125 children in courses like computer software and hardware, sewing, dress designing and embroidery.
The old-age home provides succour to the aged who are in the autumn of their lives and with nobody willing to look after them. The home has 142 rooms and at present houses nearly 200 people.
Sant Amrik says they welcome everyone with open arms. "Nobody is turned away. Once they have been registered here they can come and go anytime they wish to," says Amrik. "When the old-age home was opened, old people came here even after having petty quarrels with their children. We acted as mediators and pacified them. This continued for some time but now most people residing here are here to stay. Some of them go to meet their near and dear ones but return," adds Amrik.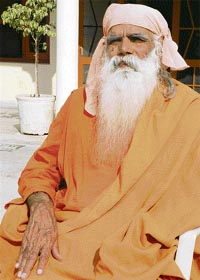 Sant Amrik Dev, uncle of the late astronaut Kalpana Chawla, set up the home for the aged in 1998
Some residents are haunted by painful memories. Arun Kumar Bhatia (72) is one such person. A weapons specialist in the Electric and Mechanical Engineering (EME) Corps of the Army, he was dealt a blow by destiny, when on December 13, 1983, 13 members of his family, including his wife, two sons (aged 18 and 15), a daughter (8), parents, two sisters, brother and sister-in-law were massacred by militants at his home in Amritsar.
"I used to represent the Army in the Ranji trophy. That fateful day I had gone to play a cricket match. The militants came looking for me as they needed my skills to assemble a rocket launcher. But when they did not find me there they wiped off my family," says Bhatia with tears streaming down his eyes. "When I returned home I lost my mental balance on seeing the bodies of my near and dear ones. I was admitted to the Amritsar mental hospital and I stayed there for 12 years. My kidneys started malfunctioning during my stay in the hospital and I was put on dialysis," he says.
After his release from the hospital, with nobody to fall back on and even disowned by the Army, Bhatia stayed at various old-age homes before making Nirmal Dham his home a few years back.
"It is like heaven here. We are looked after very well," says Bhatia. But his bitterness towards his surviving family members, the government and the Army is evident when he says after he went through so much, nobody extended any kind of help to him.
"In 1970, I was sent to the then East Pakistan to train Mukti Bahini guerrillas, who were fighting for freedom from West Pakistan. I trained them in the use of weapons and in techniques of improvising day-to-day items and turning them into weapons," says Bhatia. He breaks down again and says: "After putting my life at risk and playing my part in the creation of Bangladesh, what did I get from the Army, which I served for the better part of my life, in my darkest hour? Nothing."
Bhatia says he contacted many high-ranking Army officers after being released from the mental hospital but all of them said they were helpless in helping him because according to Army rules, he was not eligible for pension.
"Here I am wearing used clothes and totally penniless and dependent on this institute. If it not were for Sant Amrik I would have died by now or would have been languishing on a footpath waiting to die," says Bhatia.
Santosh (63) is here for the last four years. "My husband left me because I could not bear him a child and remarried," she says. She adds that she has a brother, whom she visits time to time. Om Prakash (77) form Dehradun has been here for the past seven years and says the reason he is here is that he has three daughters and no son. "I canít live with my daughters as it is against the tenets of society," he says.
On the other hand, Gurbachan Kaur (79) has two sons and three daughters but she has spent eight years here. She says: "I had three sons who were settled in Thailand and married to Thai girls. My youngest son was planning to take me there, after my husband expired, but he met with an accident while coming here and died. I went there but I could not adjust to the alien lifestyle. One of my daughters, who lives in Chandigarh, is in constant touch with me. Although this place is very comfortable, it cannot replace the feeling of being with the people you love."
Tara, from Amritsar, who is in her 80s, has four sons but she says that she does not want to live with them. Sudesh Sharma (55) from Karnal was married for four years before going back to live with her parents. After they died, she did not know what to do or where to live in spite of having two brothers and two sisters. "I always lived with my parents and I am not comfortable here living with strangers but have no other alternative," she says. There might be several reasons why these old people are here but the fact is that at Nirmal Dham they receive the respect they deserve in the twilight of their lives.