Fit companions
Accessories do not have to wait in the wings any more. They, in fact, complete the look and are much in demand today, says Anju Munshi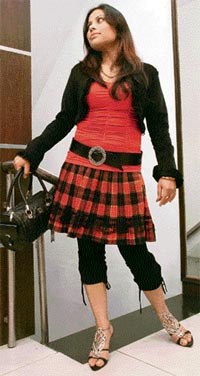 Designer sandals, hand-bags and belts project style and taste
The hit film of 2007, The Devil Wears Prada, with a demonic fashion editor portrayed by Meryl Streep and a bumbling newcomer to the glitzy world, Anne Hathaway, offered an insight into how some fashion statements work and some don't. Miracles can be achieved with small yet subtle changes in one's get-up with accessories. A simple pair of jeans complimented by a huge iron bracelet or a pendant the size of a saucer can change the whole attire.
However, we get so wrapped up planning what to wear that we forget that we should also coordinate accessories to highlight our attire.`A0
Fashion experts advise that you should start by looking hard at yourself. Take stock of the height, weight, complexion, attitude and your way of looking at life to bring about a metamorphosis.
We can start with jewellery which has a language of its own. Eina Ahluwalia, jewellery designer from Kolkata, says that the choice of designs, stones, the size of the stone worn for the necklace or the earrings tell us about a person, how traditional, conservative or forthright she is. No-risk wear speaks of status and tradition, making you a play-safe traditional person. Silver is for the arty, path-breaking Bohemian type. Diamonds spell out an independent, volatile and self-willed individual. Funky designs represent rebellion semi-precious stones in silver and white metal means one prefers going with the times.
Usually, the image of an Indian bride conjures up a picture of a bejewelled woman. But today bridal jewellery is no longer just family heirlooms, and traditional Kundan jewellery includes belly chains, belly buttons, nose rings, lip and chin studs, crystals, hair accessories, armlets, arm bracelets, mang tikkas, anklets etc, not forgetting mobile phone covers with many charms dangling , white metal key chains and silver-box evening bags.
Bags are like your soul-mates, understanding that here you dump your myriad things. But they project style too. There was a time when one bag was deemed good enough. These days one has closetful for different occasions like a working bag , a party bag , a travel bag , matching bags to be coordinated with colours and occasions. The market is flooded with jute bags, metal bags and coarse stringy bags that look fragile but are actually much more sturdy.
Scarves and stoles have invaded everyone's wardrobe in the last couple of years. Beautifully designed stoles with Kashmiri motifs look great while light silky scarves and feathery stoles spell style in bold letters. Moreover, they also add a zing to your oft-repeated and old shirts and tops. A casual draping over your shoulders without changing from your office attire gives it a different meaning and you are ready to party. Also, instead of having 10 dresses you can repeat the same with five or six different stoles and yet not be called repetitive. Such is the magic of the stoles.
Berit Steffin, an Austrian designer recognised globally for her creation in contrasts and who is associated with Kolkata's new outlet Vizyon as a consultant, finds that generally Indian women are dressed elegantly and look great with accessories like stoles and scarves "as they are used to the movement they have with saris." But they have to learn how to carry the bags, she observes. As for men, gone are the days when one could only think of an aftershave lotion as their daily bread and 'no jewellery'. Today matching designer cufflinks and wallets make the stylish man's image complete. The scene also extends to perfumes that smell different for different occasions. The tie is a man's signature statement and he does spend time choosing it carefully. It cannot be just thrown over casually but needs deft handling and the right expertise to achieve that perfect knot. Ties in plain colours with subtle stripes or small motifs are in demand always, "evergreen and simple yet elegant", as Irshad Ali of Van Huesen, Kolkata, puts it. Cravats are for formal dressing up. The sober prefer neutral colours while the more flamboyant ones choose flashy and big floral designs. Who would know it better than designer Sarbari Dutta of Kolkata who specialises in dressing up men? "The bottomline is to keep it simple. You should be the object of conversation, not your clothes," she says. — TWF