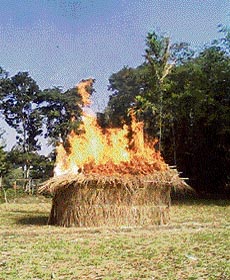 Jab North meets East
Both Magh Bihu and Lohri are celebrated on the same day & in a similar way
JANUARY the 13th is a day that brings two different sides of me together. An Assamese by birth and Punjabi by marriage, I get to celebrate Bihu and Lohri on the same day. So, every year on this night, as the daughter-in-law of the house I am made to light the Lohri fire, I make it a point to narrate to anyone who cares what must be happening in the open fields of Assam — the excitement of spending almost the entire night around a bonfire with the neighbours and stealing bamboo fences from the neighbourhood, all culled from the memory of the last Bihu I celebrated there almost a decade back.

Nach Baliye
BIHU may be more of food, but our Lohri is also not just munching peanuts and gachak. Light flirting, swinging to the beats of the dhol, doing a bhangra swirl, all this and more in the warmth of the bonfire, that's our festival. And, to add to this bonfire dance some ol' traditional Punjabi numbers. Here's a recap of the numbers that set the merriment quotient higher.

Lohri is incomplete without the infectious beats of the dhol, bhangra, boliyan & of course gachak, writes Purva Grover
ENERGETIC beats of the dhol and spirited voices of one and all is how we welcome the festival of Lohri. And, what sends the merriment quotient higher and louder is the rhythmic beating of the double-sided barrel drum. Notorious lyrics and a bhangra swirl all come alive to its enthralling beats.


Photo by Manoj Mahajan


Sweet Celebrations
WE Punjabis love to sing, dance and eat. And Lohri gives us more than a reason. Braving the freezing cold we get together and welcome the harvest season with the traditional bonfire and mouth-watering munchies. Mountains of Moongfal and popcorn, trays of gachak and ghee-dripping bhugga on city sweet shops' shelves tempt. And we succumb. (You would have to be a saint not to!)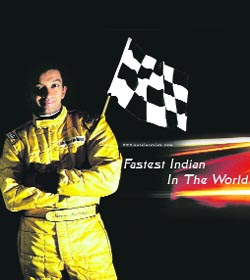 Adrenaline


on the track-2
Fastest Indian & just a normal guy
THE man who recently became the first Indian to win the A1 Grand Prix race (in China) and silenced his critics may simply smile and say that the win clearly demonstrates that he isn't finished. However, what's really interesting is how India's first F1 driver, Narain Karthikeyan can operate effortlessly on different layers. Seeing him train youngsters of Amaron NK Racing team offers more than an opportunity to look at the enigmatic dimensions inside the folds of those layers.


Narain Karthikeyan now wants to acquaint youngsters with his own skill-set


Kya Kamaal Hai
Singer, pilot, musician & actor, Gursewak Mann is now making his kind of music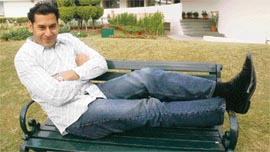 THE Lara Lappa boy is back. Not that he ever went away from the music scene. But he is ready for a kamaal now. Incidentally, this is the name of his latest album too. "I do not know whether this one will be appreciated or not, because, now I am not targetting any particular segment of audience, I am doing what I love doing, making my kind of music," Gursewak Mann begins the conversation on a casual note.
Dollar Trap
Lawyer & human rights activist Anu Peshawaria's book seeks to empower & educate victims of NRI marriages
This one is not a happy story but then one cannot simply wish it away. More so in this part of the country where newspapers are full of stories on women getting duped or physically or mentally abused by their NRI husbands. So when California-based lawyer and human right activist Anu Peshawaria came to Delhi to promote her book The Immigrant's Dream, the International Punjabi Chamber for Service Industry could not find a more deserving person than Peshawaria to honour on the occasion of the Pravasi Punjabi Divas 2008. The book was released in the city on Saturday by Punjab chief minister Parkash Singh Badal.


Photo by Vinay Malik

Little Interview
His sapna, a music album
Darshan Dave has bagged the Indian Television Academy Award-2007 for his powerful performance in Sahara One's Ghar Ek Sapna. This was his 3rd nomination last year. He shares with Lifestyle his take on his character, his association with the entertainment industry and his interests in life.
Matka Chowk
Job Tedium
Some people have really boring jobs. I have been making a mental note of some of these jobs – that I would absolutely not want to undertake and if did, would be a hopeless failure.
Big celebration
The frequency is all set at Big 92.7 FM to celebrate their Pehli Lohri. The plan includes RJ visiting listeners' homes on January 13 to celebrate the festival with them. RJs Meenakshi, Arsh, Pankaj and Anubhav would carry gifts and loads of wishes for the families who would be celebrating their Pehli Lohri (First Lohri).
Film & fashion
Craving for sweets
Keira Knightley's favourite sweet treat is a Bounty bar, but unfortunately, the confectionary is not available in the US. The 22-year-old actress, who currently resides in London, revealed her sweet tooth delight said, "I love a good Bounty.
Write to Renee
I am a 42-year-old farmer. The problem with me is my mood swings. I go into depression for many months and feel listless and lethargic. I can't get up from bed and see no purpose and meaning in my life. My wife and I share a cordial relation, but she is mostly ailing and in bed. We have two sons, one is studying in Germany and the other in Delhi. I have seen many doctors and they put me on anti depressant drugs, which I know is not a permanent cure. These days I am feeling fine but I don't know how long will this last. Help me find a solution.
Rhythm Divine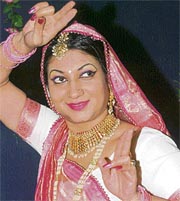 A VIVACIOUS virtuoso of Kathak dance V.Anuradha Singh has taken it up as a challenge to preserve the rich treatise of Indian classical dance patterns and poetics. In the city to perform at Pracheen Kala Kendra she shared her views on the dance forms created and cultivated by our sage musicologists compositions and the contemporary classical dance scene. Said the Bhopal based artiste, "During my performance tours abroad I have come across art lovers with a keen interest to know, grasp and imbibe the original essence and form of our intricate dance techniques. Since the repertoire of our compositions are enmeshed with poetic references of our mythological gods and deities, it adds fragrance of divine sanctity to the dance traditions."
First Day First Show
Making the right halla
Halla Bol
Watchable
Rajiv Kaplish
Monstrosities like Saawariya, Speed and Jhoom Barabar Jhoom pulverised your senses in 2007 and audio-visual assaults of Showbiz badly mauled you at the end of the year. The result: you are still licking your wounds in 2008. In such a depressing scenario comes Halla Bol—not a humdinger of a show in the league of either Taare Zameen Par or Gandhi My Father, but an engaging account of an actor's transformation from a film hero to a real-life icon.