Arty facts

Usha Albuquerque
The art scene has been transformed in recent years. In today's environment, works of art are acquired as much for their aesthetic value as for the increasingly safe investment they represent. The recent launch of an Art Mutual Fund indicates the importance investors are placing on the Indian art scene. Art galleries have mushroomed, exhibitions of works of art, and art auctions attract more than just connoisseurs and critics, and even artists can expect to eke out a decent living from their artistic endeavours. It is not surprising therefore that in such an environment, the role of the art restorer/conservator is gaining in importance.

Careercature
Sandeep Joshi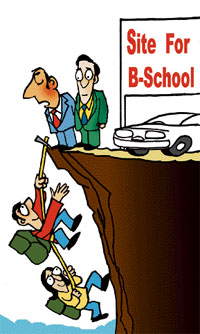 You will have to wait for the prospectus till we finish our building.

Note worthy
The adverse impact of rupee appreciation against the US dollar is well known for the IT sector, but the robust local currency is also narrowing the gap in salaries of software professionals in US and India. While the gap is likely to drop by up to 21 per cent in 2008 from the levels seen in 2006, it is still high enough to keep India's competitive edge as a low-cost market, says a white paper by leading executive search firm Manpower.

TOP MISS
Only 3.3 pc working women reach top positions, says a recent survey
Girls may fare better than boys in school, but when it comes to a career, their rise is hampered by the proverbial glass ceiling and only 3.3 per cent of the women make it to the top positions. According to a study conducted by the business chamber Assocham, only 17.7 per cent women manage to reach the middle levels in their professions.

Maximum City...
in manpower costs too
Mumbai is the least preferred among the top seven Indian cities by the IT industry for setting up shop, according to a report prepared by ICICI Property Services. The financial capital of the country ranks at the lowest in the attractiveness index when it comes to manpower accessibility and new supply for office spaces. It is the most expensive in terms of realty and manpower costs, but is only second to Kolkata in terms of social security and cost of living.

Bits & bytes
Genpact to hire 7,000 workers
Business outsourcing major Genpact recently said it has decided on aggressive expansion of the Kolkata centre which would add another 7,000 employees. The New York Stock Exchange-listed company said it has acquired a seven lakh sq ft facility to develop a mini-campus which would eventually be able to house an additional 7,000 employees.

Career Hotline
Enabling them to make a difference
Pervin Malhotra
Q Are there any physical standards for appearing in the Civil Services Exams? Are differently abled candidates allowed in all the services?
— Vignesh Kumar
A Candidates must be physically fit according to physical standards laid down for admission to Civil Services Examination-2008. Please refer to the guidelines given in Appendix-III of the Rules for Examination published in the Gazette of India Extraordinary of December 29, 2007.