Bird flu: 2 more districts hit, culling gains momentum
Tribune News Service and PTI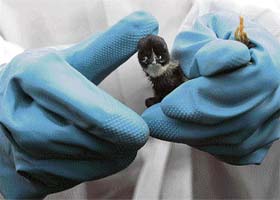 New Delhi/Kolkata, January 19
Two more districts of West Bengal were today hit by the dreaded birdflu taking the total number of districts affected to five even as the Centre expressed dissatisfaction about the steps taken by the state government to cope with the disease.
Samples from one block of Nadia district and two blocks of Burdwan district have tested positive for avian influenza, the Union Animal Husbandry Department said.
Yesterday, the government had confirmed bird flu in Murshidabad, which was the third district to be afflicted by the disease after Birbhum and Dakshin Dinajpur.
With reports of bird flu spreading, poultry mortality has reached one lakh even as the culling operations gained momentum.
Agriculture minister Sharad Pawar said the government has ordered culling operations in areas where the virus is suspected to have struck even without waiting for confirmation report from laboratory test.
The minister said that a request has been made to the Home Ministry to alert the Border Security Force to keep close eye on the movement of birds from the Bangladesh border.
"Movement must be stopped, more importantly from Bangladesh border," he emphasised. In Kolkata, minister of state for health Panabaka Lakshmi said the Centre was not satisfied with the steps being taken by West Bengal government to tackle bird flu.
"No, we are not satisfied," she said when asked if the Centre was satisfied with the measures being taken by the state government to contain the disease.