Selling products in our villages
D.S. Cheema
Advertising and Marketing in Rural India
Advertising and Marketing in Rural India by Tej K Bhatia. Macmillan India. Pages 327. Rs. 465.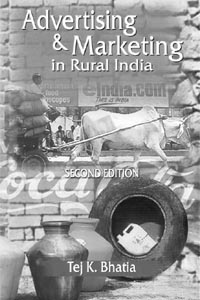 While it is well established that India lives in its more than 65,000 villages and rural India is the backbone of Indian economy, yet this sector has been neglected and rural marketing has not got its rightful place in the post-liberalisation period.
Upward economic mobility of huge village population is an opportunity no business can afford to miss, however, due to certain unique characteristics, this segment has not been fully tapped.
India's 750 million strong rural market business is reckoned at $ 500 billion in the next 10 years. The author, a professor in Linguistics and Cognitive Sciences in a New York University, who has been consultant to many business organisations and U S Department of Education, claims to have devoted his life in developing linkages between advertisement and economic progress.
The book is divided into 12 chapters. First chapter introduces the reader to rural marketing and advertising environment in India. In a growing economy, 300-500 million rural consumers offer a huge opportunity waiting to be seized by the global marketeers. The author relates this opportunity with advertising communication language and conventional and non-conventional media in a generic sense. The important role of language for transmitting a message that needs to be advertised is discussed in great detail.
English, the author's research reveals, has become a deliberate weapon of deception in villages; where literacy in English is not very high. One chapter is exclusively devoted to The Making of a Rural Advertisement. It highlights the linguistic and non linguistic methods and processes which are used for rural advertisement. In the sixth chapter, the author has coined a word which integrates globalisation and localisation 'Glocalisation' to lay stress on the use of English in advertising media in villages. His research reveals English as the single most important linguistic tool for marketing even in rural areas. Wall paintings rank high, after hoardings as far as the effectiveness and impact of different advertisement media are concerned, apart from being the most economical.
The special ways and means are adopted for meeting the challenges of communicating social and developmental messages. Certain failed government campaigns of communicating social messages like, National Family Planning Program (1952-70) highlights the challenges faced.
One chapter examines the depiction of women in advertising in rural areas. The role of gender representation, particularly female, in visual forms has many forms and shapes. Calendar advertising using women, many a times as sex objects, is used to maximum advantage by the advertisers.
Interestingly, Bhatia has devoted an exclusive chapter'Religion and Advertising to explore the scope and role of religion in advertising.
It is well known that rural India which generates 60 percent of the nation's GDP and account for 53 per cent of fast moving consumer goods has been transformed in 21st century. And this has changed the way manufacturers and marketeers advertise their brands in rural India.
Businessmen can avail of the huge opportunities only by squarely meeting the challenges of new emerging rural consumers. Advertising communication in rural India is no longer what it used to be. It is the first study of its type and may have certain limitations in clearly understanding the mind-set of villager and that of the advertisers, yet it presents a land mark in an unexplored field.
The book is relelvant to academics, marketeers and communication professionals.