Celebrating the martyr
Aruti Nayar
Martyr As Bridegroom: A Folk Representation of Bhagat Singh
by Ishwar Dayal Gaur. Anthem Press. Pages 198. Rs 495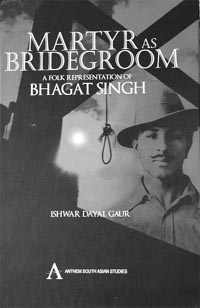 The author seeks to pull out the revolutionary Bhagat Singh from the confines of stuffy history books and political rhetoric and place him in the pulsating and throbbing vernacular space where he continues to live on and be immortalised. This popularity is in the form of catch songs or popular forms of narrative. It is said that "Folklore should be studied as a conception of the world and life in opposition to official conceptions of the world." That is precisely what the author of the book under review seeks to do.
Gaur's book on Bhagat Singh comes at a time when there has been a virtual flood of books on the martyr, the last year being the centeneray year of his birth. As he seeks to interpret Bhagat Singh and his revolutionary career from the standpoint of popular collective literary traditions of Punjab, it is a classic example of what can be termed as looking at 'history from below.' In this rewriting of history, the author's sources are what could seem secondary to most historians. In the 'worm's eye view of history' as opposed to the bird's-eye view, Gaur brings footnotes from the margins, places them centrestage and sharp focuses them. He looks at how the tradition of martyrdom is defined not from the religious perspective but in the secular perspective of popular consciousness.
It is this syncretic cultural space where the collective consciousness of the masses pulsates. The oral tradition has more vitality and is more powerful as compared to the officially documented version of history. It is the tales minstrels and bards tell, the quissas poets narrate and plays artistes enact that take hold of the mass mind. Besides, it is this that allows people across religions and communities to interact and assimilate. Gaur underlines those folk and socio-cultural practices that have evolved over centuries, facilitating an interaction among the Punjabis beyond boundaries. It is against the backdrop of a broad cultural praxis that Gaur analyses the concept of martyrdom specifically in the Punjabi context.
In a well-structured book, the six chapters deal with: Historiography and literature, martyrdom in tradition and history, studying a martyr from the margins, the fact of ascendancy, popular representation of martyrdom and an interesting chapter on the folk genres, ghori, marhi and quissa.
The people of Punjab responded enthusiastically to those who were non-conformists, counter-hegemonic and rebellious. Whether they were kings like Poros, Muslim Sufis like Baba Farid, Shah Husain and Buleh Shah, Sikh gurus like Baba Nanak, Guru Arjan Dev and Guru Gobind Singh, they became icons.
Being a frontier society, Punjab has experienced the trauma of repeated invasions and destruction, it could not emotionally afford to see its young virgins killed at an age which is fit for marriage.
A ghori was sung by a poet called Tair on March 23, 1932 when about one lakh people gathered in Lahore to observe the first death anniversary of the martyr. The ghori describes Bhagat Singh as a bridegroom, a solemn figure in the realm of Punjabi culture. To eulogise his chivalry and execution, the ceremonies of marriage are invoked as metaphors. He is visualised as a celebrated one who is going to meet a girl named death. It became a popular folk song and inspired other Punjabi poets to write such ghoris on Bhagat Singh. Usually chivalrous exploits and martyrs are venerated in the genre of var and jangnamah.
Bhagat Singh is placed in the tradition where his ancestors are 'virgin martyrs' or 'martyr bridegrooms' like Salar Masud Ghazi, Haqiqat Rai, Ajit Singh, Jujhar Singh, Zorawar Singh and Fateh Singh. The author looks at martyrdom in tradition and history to understand what goes into the making of a Punjabi martyr. In the Punjabi context, an individual who defies social, religious and political hegemony and lays down his/her life is eulogised irrespective of class, caste or creed affiliations. The definition of a martyr in the Punjabi context is broad because Guru Nanak widened it when he likened a rebellious act to "a game of love". There is no distinction between an ashiq and a shaheed. The author categorises martyrs into an outlaw martyr (Dulla Bhatti), lover martyrs (Hir-Ranjha, Sassi-Punnu and Sohni-Mahiwal) and patriot martyrs such as Bhagat Singh, Kartar Singh Sarabha and Udham Singh. A martyr's death is narrated as unique and spectacular, graceful, and glorious and better than wretched and helpless life. His death awakens everything that has fallen into slumber. His words uttered from the gallows reach out to people as messages, sermons or promises to be kept. Death is narrated with metaphors reserved for celebration of a marriage ceremony. He is seen embracing the noose laughingly. This very noose is transformed into a swing. The noose and gallows are not used ones, they are fresh and maiden. Execution is perceived as a she-executioner who is continuously drinking the blood of martyr and is still dissatisfied. Death of a martyr is not dark or gloomy but colourful embraced longingly, almost in a celebratory mode. In the history of the culture and literature of Punjab, ishq, ashiq and shaeed merge and are inseparable heroic identities.
One can disagree with Gaur's argument or perspective but, without a doubt, the book offers a refreshing and fascinating read.