A kiss in words
The golden rule of writing love letters is ignored by this gang of professionals,
writes Emma Hagestadt
Four-letter Word: New Love Letters
Ed. by Joshua Knelman & Rosalind Porter Chatto & Windus, £312.99.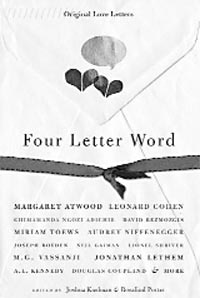 If the words "Darling Dodi" failed to set your heart aflutter, perhaps this anthology of fictional love letters might. Drafting in the help of 40 professionals – Margaret Atwood, A L Kennedy, Hari Kunzru and Leonard Cohen among them – the co-editors hope to reveal what the "L" word looks like in the 21st century.
Love in ruins has always made for a more interesting read than love triumphant, so it's perhaps not surprising that the most memorable letters are written as addenda to failed relationships. From the desperate email correspondence generated by a doomed one-night stand (Lionel Shriver) to the disappointments of a mini-break in Venice (Jeanette Winterson), the book is filled with crotchety singletons intent on setting the record straight. "Odi et Amo" is a perennial dichotomy, and as Tessa Brown's litigious contribution so wittily illustrates, these modern lovers swing from enumerating past sexual favours to slagging off one another's oral health.
For a supposed collection of billets-doux, passion and tendresse are in short supply. Ignoring Victor Hugo's advice that a love letter should be a "kiss in the post" (he sent more than 5,000), few contributors have attempted the kind of erotically inspired declarations that leave the mobile throbbing in the wee small hours, or their recipients smirking with private knowledge. The book's lustiest entry – a letter fondly recalling a holiday m`E9nage `E0 trois – is penned by a rather sensible Anonymous.
Love, as Diana found, is a difficult language to translate. While clich`E9d sweet-nothings are accepted currency among crooners and lyricists, they tend to fall flat when committed to the page. This probably explains why Cohen's letter turns out to be the most authentic – and least well-crafted – entry in the book. A freewheeling ode to middle-aged rejection, at least it obeys the first rule of how to write a love letter: it speaks directly from the heart.
The editors' fatal miscalculation – and ultimately why their book probably won't fly off the shelves – comes from the fact that the only love letters people really want to read are addressed to themselves. Perused several times an hour, the best lines memorised by heart, they provide, as Edith Wharton so aptly put it, "an exquisite accompaniment to the dull prose of life". Love letters don't even need to be well-written to work their magic. A simple "U R Gr8" will often do the trick.
— By arrangement with The Independent