Food talk
Arbi all the way
A staple for ritual fasting, arbi can make a foodie drool with delight, writes Pushpesh Pant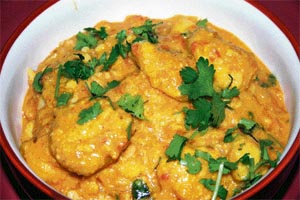 There are food historians who insist that the potato is an import that the Portuguese brought with them to our land. To raise the hackles of lovers of swadeshi further, they add that the firangee in turn had encountered the wonderful tuber in southern America. We had always wondered then what explains references to alukam in ancient texts that certainly predate the landing of much hyped explorer of the Indies Vasco da Gama?
Friends more learned than us have convinced us that this really should be treated as an abbreviation for pindalukam and translated as arbi in plain Hindustani. True enough, this is what arbi is called in Uttaranchal — pinalu. Elsewhere in the Hindi belt, arbi has other popular names kachalu, ratalu and ghuiyan. It is the prescribed vegetable for the days of ritual fasting but to be honest has been unable to shake off the plebian tag.
There are a few rare exceptions like the Awadhi dabi arbi ka saalan and the Brindabani arbi that can make the gourmet drool and go into raptures but we must confess that we have not been as excited by an arbi recipe as that of shahi arbi served to us by our Nepali kitchen artiste Manju Mami. Born and brought up in Delhi she is understandably quite partial to so-called shahi gravies for paneer or mushroom delicacies. But thank heavens this time she spared us the richness of makhan-malai- mewa-makhana and relied entirely for the satin smooth texture and 'touch me not' eye appeal — not to forget the long lingering refreshingly different taste — on the natural goodness of arbi.
Shahi arbi
Ingredients
Arbi 500 gm
Tomato (medium-sized, skinned and grated) one
Onion (medium-sized, sliced very fine) one
Bay leaf one
Ginger paste 1 tsp
Garlic paste ½ tsp
Dhania powder 1 tsp
Garam masala (preferably Kashmiri or homemade) 1 tsp
A pinch of haldi
Dahi (sweet and thick) 200 ml
Green chillies (deseeded and slit) 2-3
Ghee 1 tsp
Shahi jeera ¼ tsp
Salt to taste
A few strands of saffron soaked in lukewarm milk (optional)
A sprig of hara dhania for garnish
Method
Boil the arbi taking care that these are not mushy. Cool and peel. Flatten the arbi a little between palms and deep-fry till light golden. Place on absorbent kitchen towels to remove excess oil. Put a little oil in a pan, add the bay leaf wait till it changes colour, add and fry onions on medium flame till translucent. Now add the garlic and ginger pastes and stir-fry briskly for a minute then put in the powdered spices mixed with a little water to avoid burning. Stir-fry for about 30 seconds and then add the tomatoes. Continue to stir-fry till moisture evaporates. Reduce heat to low and pour in the dahi mixed with a little water very slowly to avoid curdling stirring continuously. Increase flame, bring to boil then add arbi reduce heat and simmer for about seven minutes. Heat ghee and temper with shahi jeera. Sprinkle the saffron strands before serving if using.