Highs and lows of cricket telecast
Amar Nath Wadehra and Randeep Wadehra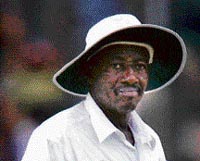 Steve Bucknor's umpiring blunders were repeatedly telecast by Indian news channels
During the 1981 Melbourne test, Sunil Gavaskar staged a walkout, dragging fellow-opener Chetan Chauhan with him. Since, in those days, we in India did not have the benefit of live TV coverage and advanced technology, it was accepted that Gavaskar had done so because of the manner in which he was given out and not because Dennis Lillee had let loose a barrage of invectives against him. Were some of those remarks racist? We do not know. Similarly, during the 1953 English team's tour of the West Indies, an unnamed player reportedly turned to an Indian diplomat during dinner and said, "Pass the salt, Gunga Din." In the absence of any evidence, this could be dismissed as hearsay although David Hopps of Mail & Guardian Online has included the incident as one of the racial flashpoints in cricket's history.
But today the ubiquitous hi-tech television has changed the scenario. Now, it brings on-field happenings into stark relief. Consequently, in 2003 the Australian batsman Darren Lehmann became the first international cricketer to be banned (for five ODIs) for racial abuse against Sri Lankans in Brisbane; another Aussie batsman Dean Jones was sacked by Ten Sports in 2006 for calling the South African Muslim player, Hashim Amla, a terrorist; and South Africa's Herschelle Gibbs (2007) was banned for two tests for shouting racist remarks against Pakistanis. As for the charge of racism against Harbhajan, even the Australian media admit that not only is there no audio/video or independent evidence against him but also his track record shows him as a player who reacts to sledging but he has never initiated it.
But even as old maladies like sledging, chucking, racism, abusive fans, and political intervention persist, some new threats have cropped up. And, television has a significant role to play in this. Among the latter the most dangerous is jingoism. Television is a mass media with unparalleled reach. It can become a formidable tool for diabolical manipulations that can create mass hysteria. And, cricket has unparalleled mass following in the subcontinent. So, when the two come together, as they invariably do, the potential for mischief by the unscrupulous is infinite. The latest evidence is the monkey chants by a section of Indian spectators during Australia's 2007 tour in India. Obviously these chants were in reaction to what spectators in Australia routinely do to coloured cricketers among the visiting teams. This sort of faux patriotism is one of the dangerous byproducts of live telecasts.
Television can help resolve many an intractable dispute. With ultrasensitive stump-microphones relaying every on-the-pitch whisper and all sorts of gizmos recording and replaying every on-field happening, the chances of foul play, erroneous dismissals, misunderstood gestures, biased umpiring, racist remarks, etc, should eventually become nil, not only because TV cameras are there but also because responsible reporting is a powerful tool for bringing a healthy public opinion. Ball tampering incidents have come down significantly, and umpiring has been getting able assistance in deciding close calls thanks to replays and the third umpire.
During the two controversies that hit India's current tour to Australia, the manner in which our news channels vied with each other in baying for Bucknor's blood and introduced nationalism while defending Harbhajan is proof enough of the media's powers to build public opinion.