'I have worked on my own terms'
Pankaj Kapoor talks to V. Ananth about his latest film Halla Bol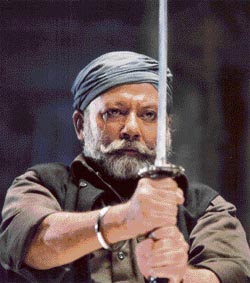 Pankaj Kapoor in a still from Halla Bol
Though Pankaj Kapoor has been in the film industry for the last 27 years, it is for the first time that he has worked in a film under Rajkumar Santoshi's direction. "It may sound strange but Halla Bol is my first film with Raji," says Pankaj.
According to Pankaj Kapoor, 'Halla Bol' means to make a noise and then attack. "The film is about an individual's journey to come to terms with truth. Initially, he shies away from facing the truth but eventually accepts reality. Most of us face such situations in our life everyday. The film coaxes you to face reality". "Each individual film has its own narrative and problems which it deals with, and the only common actor may be the oppressed and the oppressor."
"In Halla Bol, I inspire Ajay Devgan to fight against the society. My character, therefore, becomes a kind of catalyst in the film". Pankaj adds that everything was provided for by the script and it helped him that he could interact with the writer Ranjeet Kapoor, who was his batch mate in the National School of Drama and director Rajkumar Santoshi.
According to Pankaj Kapoor, as a director Raj Kumar Santoshi is clear about what he wants and has a tremendous sense of drama. He also feels for what is happening around us. "I play a dacoit who is reformed in Halla Bol, after he watches a theatre performance of Raja Harishchandra. He comes out of jail and opens a small theatre group of his own."
As an actor, Pankaj says he likes to stick to acting and go by what the director tells him. "Actors concentrate only on their roles and are not aware of the totality of the film. And hence it is better if the actor leaves the job of direction to the director and just concentrate on acting," Pankaj adds. "If a director and the actor are sensible, then I assure you there will be no problem on the sets. I can vouchsafe this since I also have directed serials. Problems occur only when the actor or for that matter the director takes an egoistic posture or the actor perceives himself in a certain persona and sets out to throw tantrums. And also vice-versa, problem occurs when a director may not know acting and yet tries to teach acting to the actor on the sets."
As an actor, Pankaj opts for the script first and then the role and the director when it comes to choosing a film. No wonder in 27 years, Pankaj Kapoor has acted in just 35 films. "In case of Halla Bol, I am glad all three worked. I have never played such a role earlier."
The only film Pankaj has right now on the floors is Good Sharma directed by Suri. "Based on a real life story, it is a film in English shot in London by the producers of Dharam. Dalip Tahil plays the title role. I play the antagonist, who has his own reasons for being what he is and is fighting the battle of the village on his own".
According to Pankaj, his career as an actor has been fairly satisfactory. "I have been able to play a host of characters which the audience have liked. There has been struggle as well as growth. I am glad I have been able to work on my own terms and conditions. I have come to a point when I have intensified as far as the kind of work that I want to do, as an actor."
He says right now he is busy working on a script he would be directing which will have his son Shahid Kapoor in the lead role. — MF