Honour for Bertolucci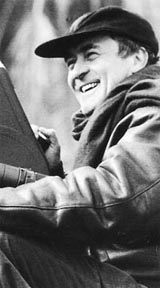 Italian director Bernardo Bertolucci will receive a star on Hollywood's Walk of Fame. The honour for the 67-year-old director will be revealed on February 19 in front of Mann's Chinese Theatre during the Los Angeles Italia pre-Oscars Italian cinema showcase.
Bertolucci joins the likes of other big Italian names such as Rudolf Valentino, Anna Magnani, Arturo Toscanini, Enrico Caruso and Sophia Loren, to be honoured with the star, reports Variety.
Along with the star, Bertolucci will be paid a tribute, with the screening of his rarely seen 1968 documentary La via del petrolio as well as a restored print of his 1970 film, The Spider's Stratagem. The director received a Golden Lion career achievement prize during the Venice Film festival in September last.
Bertolucci's The Last Emperor won nine Oscars in 1987, including the best director. — ANI