Seema's comic act
Subhash K. Jha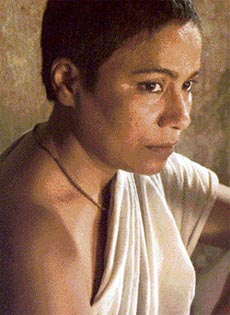 Finally, Seema Biswas of Bandit Queen fame lets her hair down for NRI filmmaker Deepa Mehta's comedy Stella. Mehta and Seema have one thing in common. They both badly need to loosen up.
Seema has been doing an unbroken series of stern, wretchedly unhappy characters, including the unforgiving mother in Sooraj Barjatya's Vivah and the profoundly grieving widow in Deepa Mehta's Water.
Mehta has been going through her own bouts of depression after shooting the story of a battered wife in Heaven On Earth.
"It is a film called Stella about the joyous adventures of a wacky nanny. I just thought Seema was so right for it. So far we've only seen her in serious roles. Seema has an innate sense of fun and mischief which nobody has tapped," Mehta, who wraps up Heaven On Earth with Preity Zinta in Chandigarh.
"I'll be co-directing the film with my brother Dilip Mehta, before going into my next big project Luna with John Abraham. I hate to praise my own family. But Dilip is a very talented filmmaker," said Mehta who is all set to whoop it up with a comedy. — IANS