TELEVISION
Hot models
At the Harley-Davidson factory workers do not just manufacture the motorbike, they celebrate it. Which is why each of its models is a legend. Megafactories on the National Geographic panel on Thursday January 24 at 8 pm takes a close look at the celebrated bike at its plant in Kansas City, USA.
The focus is on the V-Rod, the first Harley-Davidson motorcycle to go from 0 to 96 km per hour in just 3.52 seconds nearly twice as fast as any other bike from that stable. With its thrilling speed, liquid-cooled engine and exterior frame, the V-Rod represents a number of important firsts.
At the factory it is up to the engineers, designers and workers to ensure that the V-Rod's creative look can handle the high speeds for which it was designed while maintaining the signature Harley-Davidson style that consumers expect.
Robots engage in carefully choreographed manoeuvres to create the motorcycle's unique frame and remove any kinks. The engine assembly line, which puts together the V-Rods powerful V-Twin engine, includes miniature cameras that monitor for any missing parts.
Inside this mega factory, workers also build the V–Rod's custom-made cousins: Screamin Eagle and Destroyer, the fastest factory-built drag racer ever made. Through cutting-edge factory footage and assembly worker interviews, Harley-Davidson reveals the makings of one of the most amazing bikes ever to hit the roads.
Chilling tale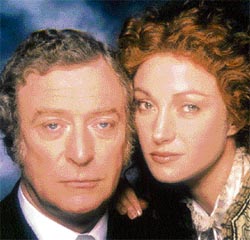 A scene from Jack the Ripper
On August 31, 1888, a sex worker is brutally murdered in London's East End, an area that attracts 'gentlemen of leisure' as well as people from other sections of society. Four more murders follow and there is an outcry for action. Who is this unidentified serial killer?
A letter arrives at London's Central News Agency written by the murderer who claims to have killed all the five women. He signs off as Jack the Ripper.
Even after 120 years few names in history are as instantly recognisable. They say more books have been written on him than all of England's royalty. There have been innumerable plays, songs, operas, telefilms and Hollywood movies on this Victorian killer.
Watch Jack The Ripper later this week on History Channel. Starring Michael Caine and Jane Seymour, this one is an original whodunit. — NF