ulta pulta
Newsmaker Nano
Jaspal Bhatti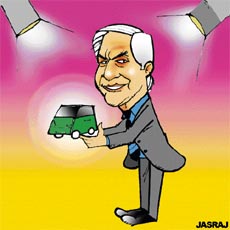 Papa ab to nayi car le aayo. Itís only for one lakh". "Oye, shut up. Petrol usme tera chacha dalega?" The Tatas have unveiled the Nano but the poor common man is still worried about the petrol part of it. For that Ratan Tata has to probably research further to bring out a car without an engine. If it canít do without an engine, then it could work on water and, mind you, the water has to be tap water and not the mineral or the distilled kind.
Letís shift our focus from the lower class to the upper lower class. "Papa, Nano le aayo na!"
"Beta, we live in small flats. There is no space to park scooters and you are talking about managing a car in this area."
"But Papa we could always park in public places like the railway station or the bus stand on a monthly basis."
"You idiot, the monthly charges will cost us more than the rent of the flat."
So, once again the talks between the father and son fall through.
Now imagine two school kids of a prestigious public school talking to each other. "Arre Mintu, you know Sunilís father has bought a Nano car".
"Oh really. I never thought Sunilís father was so broke. Mujhe lagta tha ki woh ek senior officer hai aur badi important post par lage hue hain!"
Two men in a bar cheered the Nano. The bartender asked, "Are you related to Ratan Tata or Nano distributors"?
"No," said one of them. "We are contractors for collecting toll tax on the highway. With Nano, we expect heavy vehicular traffic.