Headcount went north, productivity moved south
IT's Top 3 added over 57,000 workers in '07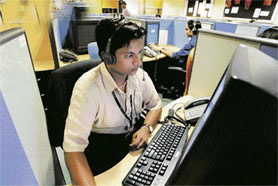 India's three biggest IT firms, TCS, Infosys and Wipro, together added 57,554 persons to their payrolls in 2007, but rising staff costs coupled with the impact of the rupee rally and turmoil in the US economy have affected their average employee productivity.
The three companies have reported a surge of 20-25 per cent in their collective third quarter profit and revenue in the current fiscal, but when compared in terms of turnover per employee, only Wipro could improve its performance from the year-ago level.
The average turnover per employee for the three companies dropped marginally to Rs 5.75 lakh in the October-December 2008 quarter, from Rs 5.79 lakh in the year-ago period.
Wipro's average turnover per employee rose to Rs 6.80 lakh in the third quarter of this fiscal, from Rs 6.13 lakh in the year-ago quarter. However, TCS and Infosys recorded a dip in their average per employee turnover to Rs 5.58 lakh and Rs 4.99 lakh, from Rs 5.85 lakh and Rs 5.35 lakh, respectively.
The average per employee net profit of the three companies also declined to Rs 1.23 lakh in the latest quarter from Rs 1.30 lakh in year-ago period.
The combined net profit of the three companies rose 19.1 per cent to Rs 3,411.67 crore in Q3 of this fiscal from Rs 2,864.50 crore a year ago.
Their total revenue rose 25.4 per cent from Rs 12,679.73 crore to Rs 15,904.18 crore during the quarter under review.
At the same time, the total employee strength of the three firms stood at 2,76,662 persons at the end of December, 2007, against 2,19,108 on December, 2006.
The headcount of TCS, the largest IT employer in India, rose to 108,229 employees in 2007, up from 83,500 at the end of the previous year.
The net addition of 24,729 employees at TCS represents the highest among the three companies. TCS said its attrition rate was 12.2 per cent in the latest quarter, the lowest in the industry. Over 49 per cent of the employees at TCS have over three years of work experience, while 28 per cent of all employees are women.
Infosys' employees strength rose to 88,601 in 2007, with an addition of 19,169 over its 2006-end workforce of 69,432 employees.
As opposed to the general view that the industry is facing a talent crunch, Infosys' HR head T.V. Mohandas Pai said, "We are encouraged that the recruitment pool for the IT industry has widened and fears of talent shortage appear to be misplaced." Wipro's employees strength stood at 79,832 at the end of 2007, with an addition of 13,656 employees against 66,176 a year ago.
While Wipro witnessed net additions across most of its business segments during October-December 2007, its BPO division saw a net drop of 35 employees during the quarter to 19,907 as on December 31, 2007.
The companies have expanded their overall headcount over the past one year in order to mitigate concerns over possible talent shortage, however, a higher employee base appears to have adversely affected their topline and bottomline of financial performances, which are already facing pressure from a sharp appreciation in rupee versus the US dollar as well as the fears about a possible slowdown in the US, one of their biggest markets. — PTI