Fortnightly Quiz-302


BULL RUN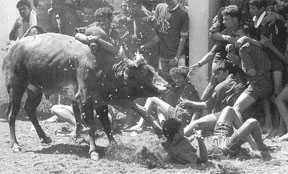 1 Which country recently scrapped its plans to sell uranium to India, as the latter was not a signatory to the NPT?
2 What is the name of Tamil Nadu's famous sport akin to the Spanish bullfight?
3 Which Indian company's IPO has been the biggest so far?
4 Which company recently brought out the world's cheapest car?
5 Name India's biggest wholesale market in Kolkata where many shops were gutted recently.
6 In which year did Sir Edmund Hillary and Tenzing Norgay conquer Mount Everest?
7 Name the governor of the Louisiana state in the USA.
8 What is the full form of Nabard?
9 When is the Army Day celebrated?
10 Where is Kashi Vishwanath Temple situated?
11 Name the author of the novel Lolita.
12 Expand WACA.
13 Which cricket venue's pitch is the fastest in the world?
14 Which country recently denied Australia its 17th consecutive Test victory?
15 Name the USA's only world chess champion.
Name.....................................
Class......................................
School address .......................
Winners of quiz 301: The first prize by draw of lots goes to Apoorv Sharma, IV, Indus Public School, Vijay Nagar, Jind-126102 Second: Monika Thakur, X, DAV Public School, Greyoh, PO K.K. Gehra, tehsil Sarkaghat, district Mandi-175025. Third: Ramakant Sharma, X, Gyan Jyoti Public School, Thehar-176025.
Answers to quiz 301: Barak Obama; Akshardham Temple; Bhutan; Dr P.K. Sethi; Liberhan Commission; Kullu; 2009; Kulti Works; Kiran Bedi; Tennis; West Indies; Adam Gilchrist; Sachin Tendulkar; VVS Laxman; Australia
Cash awards of Rs 400, 300 and 200 are given to the first, second and third prize winners, respectively. These are sent at the school address.
Note: Kindly mention the pincode of your place to facilitate the delivery of the prize money.
Answers can also be sent at quiz@tribunemail.com
— Tarun Sharma