M A I N N E W S
Flu spreads but no human infections
Tribune News Service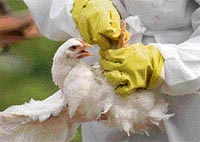 New Delhi, January 22
The UPA government sought to allay fears today about bird flu spreading in West Bengal among the people. "To date we have not got any confirmation of humans been affected by the flu," union Health minister Anbumani Ramadoss told mediapersons here on the sidelines of a function here.
Even as more districts in West Bengal were been afflicted by flu, Ramadoss claimed that screening was conducted within 10 km of the affected areas and all people who lived in villages had been randomly tested by the teams of his ministry. "There is no reason to be concerned about any human cases of bird flu," the minister observed. At the same time Ramdoss insisted that "we are all vigilant."
The minister disclosed that three samples which had been sent to the National Institute of Communicable Diseases in the national capital had tested negative. Simultaneously, the NICD, Kolkata, which tested five samples, has confirmed today that all of them were negative for the presence of avian influenza.
Though there have been complaints of slow culling of birds, the minister said yesterday 71,000 chicken were culled and 61,000 eggs destroyed.
Earlier, inaugurating the centenary celebrations of the Trained Nurses Association of India (TNAI), Ramdoss emphasises that the nursing profession occupies a strategic position in the primary healthcare network and the mainstay of the healthcare delivery system.
He said besides patients care, nurses were required today for unconventional roles like promoting healthcare practices, educating people about disease prevention, offering family welfare services, counselling and motivation. Nurses are the ones who provide the most vital maternal and child heath care services to the community.
Ramdoss said higher allocation of Rs 2,900 crore has been proposed during the XII Plan besides Rs 280 crore for the existing schemes.

Situation under control, says Buddhadeb
Subhrangshu Gupta
Tribune News Service
Kolkata, January 22
West Bengal Chief Minister Buddhadeb Bhattacharjee claimed today that the bird flu situation was now under control and there was no need for any medical assistance from the Centre for dealing with the situation.
Union animal husbandry secretary Pradip Kumar, who arrived in the city today, however, said they had already asked seven different states, including Maharashtra, Punjab and Haryana to send the medical experts and special teams immediately for culling the bird flu-infected chickens, birds and ducks.
Pradip met the health minister Suya Kanto Mitra and animal husbandry minister Anisur Rahman and reviewed the situation. Later, he left for the bird flu-infected districts of Burdwan and Birbhum to make an on-the-spot study of the situation. State health minister said the state was properly handling the situation.