AUDIO SCAN
Spirituality & nostalgia
Boot Polishan
(Sony BMG Music Entertainment)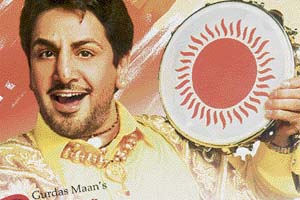 SO what is it about Gurdas Maan that makes most of his songs not only gain immense popularity but also win critical acclaim? Two factors have facilitated this phenomenon. One, he pens lyrics which are highly nostalgic and smell of the earthy feelings of rural Punjab. Two, he combines them with a streak of spirituality due to which even a romantic song sounds like ibada ( worship). Add to that a bit of social message and the recipe for a success story is ready.
All these are in play in this album. For instance, anybody who has pined for a cycle will connect instantly with his song of that name. It automatically takes you back to the time when he had his trousers getting soiled on being caught in the chain. Such emotions strike a chord with his listeners.
Then there are other songs like the title number which give a message of leading an honest life even if that involved polishing shoes. In Maape he reminds the listeners of the kind of love that they get from their parents. The same is true of Chhalli, which gives a strong exhortation against social evils like female infanticide.
Paying a tribute to the late film director Manoj Punj, he elevates Dilaan de jaani to almost spiritual planes. Tere mere pyaar de tare gawah ne is seeped in romanticism. These and Sakhiye saheliye are typical Jaidev Kumar creations—slow-paced to the extent of entering one's heart unobtrusively. He switches over to patriotism in the closing number which is a tribute to Bhagat Singh. The lyrics, singing as well as music are all endowed with the quality of evoking nationalistic feelings in any heart.
Breaking barriers
(Times Music)
You have always associated Ustad Amjad Ali Khan and his sarod with the delineation of classical strains. He breaks the barriers this time by rendering all-time favourite Christmas carols and hymns. Needless to say that his magical sarod "speaks"!
The Ustad says that he had wanted to perform these for a long time. "The prospect of performing these appeared in 1995 at the Church of Northern India in New Delhi. The atmosphere was memorable. When I played Silent Night that evening, the lights went off for a while and candles were lit up. Ever since, it has been a project I wanted to record," he reminisces. He has made this dream a reality 12 years later. He has improvised immaculately, while remaining true to the tunes which have mesmerised the world all this while. There are Joy to the World, Silent Night, O Come All Ye Faithful, Jingle Bells, The Lord's My Shepherd, O Lord and Master of Us All, We Three Kings and We Wish you a Merry Christmas. — ASC