African safari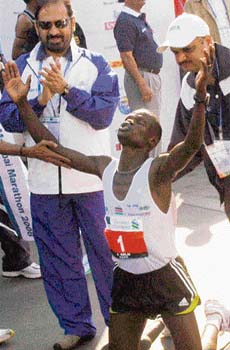 Kenya's John Kelai celebrates after winning the Mumbai Marathon as Indian Olympic Association president Suresh Kalmadi applauds. African runners grabbed the top three places in men's as well as women's categories
— Photo by PTI
Menace in tennis
After tainting cricket, match-fixing seems to have spread its tentacles to another ball game,
writes M.S. Unnikrishnan
Mahesh Bhupathi's revelation that he was contacted by a bookie to tank India's Davis Cup match against Holland in Jaipur has rocked the All-India Tennis Association boat like never before, as the Grand Slam player is not in the habit of telling lies.
Double standards in selection
Vaibhav Sharma
IT was a classic case of bad timing. As the Indian squad celebrated the historic victory in Perth, the selectors sprang an unpleasant surprise on three team members.
Putting their best foot forward
Harpreet Bedi idolises Cristiano Ronaldo, but unlike the twinkle-toed Manchester United winger, he announces himself by finding the target with a scorching long ranger rarely executed by footballers of his age.
IN THE NEWS
Back in business
Vikramdeep Johal
WHEN out-of-form Irfan Pathan was sent home from South Africa in late 2006 to play in domestic cricket, it seemed cruel of the team management to single him out for such treatment. Little did he — or anybody else — know that this would be a blessing in disguise for him.