Happy R-Day guys!
Kid Republic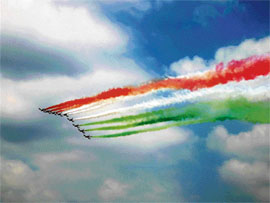 On the eve of the 59th Republic Day, we spoke to some of our city kids and came back surprised, specially at Pakistan being stumped from the time-honoured position...
BEWARE, the country has a new enemy — Australia. Get ready to attack them with your fighter plane, for, they cheat in the game of cricket. Forget illiteracy, poverty or unemployment, the problem with our country is bad people who abuse. We don't like bad people. And, we also don't like leaders who have not read the country's book of rules. They don't care for the poor. We are not even free yet. Why?
The great Indian Republic Show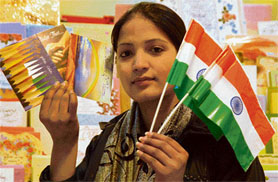 Youngsters need an excuse to celebrate. They gift on Valentine's and party on Halloween. And when it comes to R-Day, they have no reason to hold themselves back, says Saurabh Malik
Call it surge of patriotism or loyalty towards carousing; snail-mail and e-cards, along with flags, music cassettes and even buntings are laying the constitution of Republic Day celebrations.
STEP OUT
Last ascent for Hillary
The pioneer of Everest departs on his final journey
Sir Edmund Hillary, the grand old man of mountaineering – indeed, of adventure – has passed on to another world. When the golden jubilee of his Everest ascent with Tenzing Norgay came round in 2003, he had graciously borne the May heat in Delhi to attend celebrations by the Indian mountaineering community. And, addressing a gathering that included several Everest summiteers, he had said, memorably, "Many of you have done it and you will wonder what was so special about our climb.

Sir Edmund and Lady June Hillary at the commemoration of the Everest golden jubilee in Kathmandu in May 2003. Photo by the writer

An Arty Year
Talent needs a creative outlet and a platform for showcasing it. And thanks to the Chandigarh Lalit Kala Akademi, our budding artists now have both. It came in the form of a calendar, incorporating 20 award-winning paintings that resulted from a workshop, organised as a part of the Rock Garden Festival last year.
First Day First Show
Ajay tries to be funny, but fails
Sunday
Exhaustion shows on Ajay Devgan's face. He looks tired. Who won't he be after belting out numerous action flicks that failed to create any ripples at the box office. He is desperate for a hit. Guess, whom he turns to for inspiration? Akshay Kumar, his contemporary and the Bollywood hunk, who effortlessly switched off from an action hero to a comic star and delivered four mega hits in 2007.
Telly Tales
Kahani fashion ki
Calling saas bahu fans & fashionistas: Now you can dress up Star
Parivaar style
Dutiful daughter, ideal bahu, devoted wife, perfect mother and empathetic saas, the complete homemaker who binds the whole family into one single cord of harmony and realises her identity inspite of performing so many roles simultaneously — Tulsi, Parvati, Kumkum, Prerna, Bani and more. Many cried with them, a few cried over this genre of tearjerker daily soaps, while the fashion conscious were busy copying these divas.
Britney's early start
Britney Spears' uncle claims that she started experimenting with drugs and drinks from a very early age. The 49-year-old William Spears spoke candidly about the troubled singer's early problems. He said that Spears started drinking from the time she was 13 and indulged in drugs at 14.
Q&A
beauty studio
Miracles of Coconut
With all the latest from the West and new developed creams and moisturizers in India, it won't be wrong to say that coconut oil remains a hot favourite and undoubtedly a best friend to our skin. Said to be the healthiest oil on earth with small molecules it allows easy absorption through the skin, lending a soft and smooth texture.