Smart Skills
Data quest
Usha Albuquerque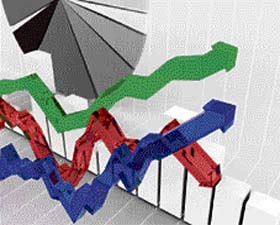 We collect data for everything. Sachin's batting averages, literacy levels, stock market fluctuations…. you name it, and there are statistics to back any information. The world is becoming more and more quantitative and the data focused. So, if you are one of those who loves to juggle with figures — what about a career in statistics?
Statistics essentially involves putting mathematics to scientific use in the collection, analysis, interpretation, and presentation of masses of numerical data. Statisticians use this knowledge to design, collect, and interpret data experiments surrounding many different fields from economics, medicine, psychology, marketing, public health, biology, to sports and others.
Statisticians use quantitative abilities to interpret numerical data, statistical knowledge, and communication skills to work on many challenging problems. Many professions depend on numerical measurements to make decisions in the face of uncertainty.


Study in statistics
Some of the institutions offering courses in statistics are:
Indian Statistical Institute, Calcutta
Indian Statistical Institute (Delhi Centre)
Indian Statistical Institute, Bangalore Centre
Aligarh Muslim University, Department of Statistics and Operations Research
Banaras Hindu University, Varanasi
Department of Statistics, Panjab University
Punjabi University, Patiala
Hindu College, Delhi
Ram Lal Anand College, New Delhi
Presidency College, Kolkata
St Xavier's College, Mumbai
University of Calcutta, Calcutta
Different areas of statistics are crime statistics, census statistics, ecological statistics, medical statistics, statistics on job-seekers, on education, film statistics, cricket statistics, oil statistics, market statistics, accident statistics, labour statistics, population statistics, election statistics, district-city-state statistics, tourism statistics etc. All these areas require the analytical brain and comprehending ability of a statistician and explain to the common public what the numbers mean and how it can be beneficial to the common man.
Work profile
Statisticians make use of various methods like questionnaires, surveys and diagnostic tests to study real life problems in a broad range of disciplines like biology, economics, engineering, medicine, physics, sociology and psychology. They collect data from reliable sources, evaluate it using scientific methods, make use of statistical tools and present their findings in the form of graphs, charts, tables etc. On the basis of their findings, they suggest potential applications of the results of their survey and help to find solutions to the problem at hand. Some of the areas where mathematical and statistical knowledge is widely applied are in social, economic, medical, political, and ecological problems. These include:
Analysing consumer demand for products and services (at a consumer marketing firm, corporation, or consulting firm) Statisticians are involved in the development of products and quality factors. They often work for automobile, pharmaceutical, or computer software companies in trial testing and product evaluation. Apart from development, statisticians are also involved with the manufacturing, asset, liability, and risk management, and marketing departments of firms. Statisticians also work in the financial services sector, managing assets and liabilities, determining the risks and returns of certain investments. Many have been very busy over the past few weeks, furiously calculating risk and liabilities with the volatile fluctuations of the stock markets.
Medical statisticians help doctors and other medical professionals with their work. The job involves monitoring and surveillance of diseases and health pattern of the sample under study. It involves establishing the cause of disease or the factors associated with disease and death and thereby its prevention. It also involves designing and analyzing studies to determine if new drugs and medical devices are safe and effective for pharmaceutical companies, medical research centers, or the Food and Drug departments.
In the field of agriculture and agri-business, statisticians analyse data from agricultural experiments to increase productivity and yield. Many environmental, scientific, and agricultural agencies hire statisticians for similar type of work in their respective fields. Evaluating the environmental impact of air, water, and soil pollutants (at a research laboratory, commercial environmental clean-up firm, or for the Environmental Protection Agencies) Even national defense organizations hire statisticians to assess weapons and strategy effectiveness
In the social sector, estimating the unemployment rate, literacy levels, malnutrition numbers, dowry deaths and many other sociological issues are other areas of work. Most government organizations and agencies hire statisticians to evaluate population, demographic, and economic measurements. Statisticians use sampling techniques to determine sizes of relative populations and demographics. This process is achieved by surveying portions of large groups. They determine the size of group samples and the methods for carrying these samples out. This includes stylizing the instructions and questions to be used in surveys. Finally, statisticians summarize, analyze, and interpret the resultant data. Surveys may be conducted on a range of issues like most popular political candidate during elections, or issues related to the general public etc.
In the research field, statisticians help scientists and future scientists collect and analyze data to create information and develop new statistical methodology particularly at a university of research organization in disciplines such as statistics, mathematics, biostatistics, business, ecology, or psychology.
Sports statisticians are also much in demand, as they collect and analyse sports data like cricket scores, hockey scores, tennis scores etc along with other historical information that commentators refer to when reporting games. Such statisticians work for sports teams, associations, private sports statistic bureaus, sports channels, media etc.
Eligibility
Most statistical jobs require at least a master's degree in mathematics or statistics but the minimum educational qualification required in this field is a bachelor's degree with a major in statistics or mathematics. More advanced academic research in statistics require at least a Master's degree and Ph.D in the same field. A bachelor's degree with a major in related field such as economics or natural science and a minor in statistics is preferred for some jobs.
In fact, combining statistical skills with other subjects such as economics, operational research, computer science, business administration can give one a competitive advantage. Entry-level jobs in areas of research, such as industrial, require many experienced years of work and study.
For a B.Sc in Statistics you require 10+2 or equivalent examination with a minimum of 50 per cent marks in the aggregate in the subjects physics, maths plus any one of the following: chemistry, statistics, computer science. You need mathematics to understand the language and theory of statistics. Scientific knowledge will help you understand the subject matter and technical background of the problems you work on and will make you an effective problem solver. You will use the computer not only for calculations, but also to create visual displays of data
For admission to M.Sc courses students you should have passed B.Sc./BA, with mathematics/ statistics as one of the subjects, or B.Sc in Computer Science with minimum 50 per cent marks. Some Universities and Institutes conduct specific entrance tests to gauge the aptitude of the aspirants.
Besides high mathematical aptitude and a good reasoning ability, Statisticians need to have a curious and disciplined mind. Computer skills are important while command of written and spoken English will help you communicate the results of your analysis effectively.
Countless jobs
One advantage of working in statistics is that you can combine your interest with almost any other field in science, technology, or business, including agriculture, economics, education, engineering, insurance, marketing, medicine, public health law and several others. Moreover, as the requirement for data in all these fields increase, job opportunities in statistics are projected to remain favorable in the future.
The private sector needs statisticians in management, product quality, medicine, pharmaceutical research, medical device research, engineering, transportation, insurance, computer and data processing services, risk assessment, and marketing.
Colleges and universities need statisticians for teaching, statistical research, and consulting.
Government agencies employ statisticians to design, collect, analyze, and interpret data for planning and development services in agriculture, labor, education, and the census, among others. The apex body of the official statistical system in India is the Department of Statistics in the Ministry of Planning and Programme Implementation, which co-ordinates the work of statistical organisations such as the Central Statistical Organisation, the National Sample Survey Organisation etc, and the Indian Statistical Institutes — the most prestigious statistical studies institutes in the country.
For a career in government with the ISI you need to pass the all-India level competitive examination conducted by UPSC. A Master's degree with Statistics or Mathematical Statistics or Applied Statistics from a recognised university is essential for such an assignment.
Other government organisations employing statisticians include Planning Commission, the National Council of Applied Economic Research (NCAER), Institute Of Applied Manpower Research (IAMR), Indian Council of Medical Research (ICMR), statistical and economic bureaus, institutions associated with soci-economic research, banks and public-sector undertakings.
Moreover, with a degree in statistics you can also appear for the Indian Statistical Services, Indian Economic Services as well as Civil Services exams.
So, if you are good in maths, love collecting data and can easily figure out why our growth rate is not as fast as it should be, or how many mobile will be in use in 20 years…. then statistically speaking, you should have a successful career!