Shakuntala, the mathematician with a mission
Sridhar K Chari
Tribune News Service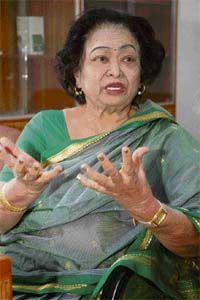 Shakuntala Devi
Chandigarh, January 29
Shakuntala Devi, the legendary mathematics wizard who has enthralled fans with her prowess for decades, ever since she first took to the stage as a four-year old, is in town. She is on a mission, she is "in a hurry," and she has a challenge for Chandigarh.
"Let the schools here each give me 10 students whom they consider the weakest in mathematics. In 24 hours, I will transform them. Maths has been made a dry, dull, difficult subject. I will rekindle their interest."
And how will they spend those 24 hours? Some drills, perhaps, and a series of evaluations? "No. I don't follow any scientific methods. I have a gift which I want to share. It is a divine blessing. I'll just wave a magic wand," she says quite seriously.
Realising perhaps that that is not going down very well, she gives an impish grin. "Well, there is no magic wand. I will just kindle their latent interest, give them a sense of the joy of numbers."
"Children's minds nowadays are in poor condition. And mathematics is associated with violence - get it wrong, and get a whack from the teacher! Emotionally they are put off. That has to change."
Shakuntala Devi is on a fund-raising tour, as she hopes to set up a mathematics institution on a one-acre land in Bangalore in HSR Layout, provided to her by the Karnataka government. She is planning one more in Kadapa in Andhra Pradesh, and is keen on a possible centre in Chandigarh as well.
She makes no bones about her interest and practice in astrology. "It is our traditional family profession." She adds a line evidently practiced on her Western travels: "Astrology is not fortune telling. It cannot predict that this weekend, you will be having Capuccino with a blonde. Planets affect human lives. Astrology is a way of understanding that."
Shakuntala Devi wants to do things quickly. She is shortly travelling to China and New Zealand. "A person like me has to be global. Luckily for me, mathematics has meant that I always meet good people. And my needs are simple. Rasam and dahi rice! And my clients give me clothes."
The people she has met around the world include famous ones, and the album she produces from her handbag opens out to a photo of her with Hillary Clinton. "She was only interested in the number of votes she would get," she smiles. The meeting was about two years ago. What did she tell her, we ask, wondering if she will offer a prediction about her possible presidency. "What could I possibly tell her?" she laughs it off.
Born in poverty and unable to pursue formal schooling, and subsequently living with the demands of fame, and some attendant controversy, she is free of any regrets or bitterness. "Like everyone else, my life has had its share of the good and the bad. Now I just want to help a few people get some education. Some people become bitter. What do we owe the world, they ask. But actually, we owe the world everything."
She plans to be in Chandigarh for a couple of weeks. "I believe in the mathematics of life," she offers as a parting shot. What is that? "Spread joy, it multiplies. Spread sorrow, it divides."