Return of the native
Visiting the village school one attended and meeting up with old friends after 60 years is the stuff of fiction but truth is often stranger. Memory mixes with a desire to relive those childhood days as Akmal Aleemi walks down nostalgia lane in his ancestral village Dhilwan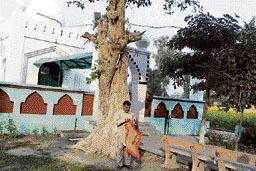 Faith was sustained by devotees from all religions. The shrine of Baba Lahori Shah and its Muslim caretaker.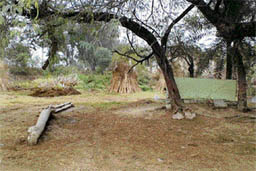 The neighbourhood at this site was wiped out by the river which changed its course. ó Photos by the writer
The Jagatjit Singh Diamond Jubilee High School in Dhilwan on the left bank of Beas in the then princely state of Kapurthala closed for summer vacation and I took a train to visit my cousins whose father lived and worked about 100 miles away in the northwest. In the following several months the Punjab, the fertile land of five rivers, presented a gory scene of looting, arson, abduction and killing and an unprecedented transfer of population no political leader had ever visualised.
The 20th century man had reverted to the dark ages when human trafficking was a legitimate trade and detaining people against their will and converting them into slaves was elitism.
Stranded in a headworks colony near the town of Lala Musa, I heard that my mother had locked our home in the village and moved with relatives in Jalandhar. She was hoping that sanity would return to the village and she would be able to go home soon. It did not happen and my father who lived and worked in Lahore travelled to the eastern city to rescue her and my siblings. I had become a Pakistani after the dawn of Independence.
This is the gist of a story that has been narrated by thousands of refugees, called mohajirs in Pakistan and sharnarthis in India, with variations. But what follows is different and unique.
On a recent winter morning, as a US citizen I crossed the Wagah border into India to fulfil the childlike dream of having a second look at my birthplace. On both sides of the border, standing crops of mustard bloomed yellow and sugarcane spread sweetness in the air. Sukhpreet Singh Bhatia (SP), the resourceful nephew of a friend in Washington, drove me in his car to Dhilwan.


For Akmal Aleemi it was a childhood dream to visit Dhilwan, his birthplace.
The 45-minute journey from Attari Sham Singh brought back many memories of my childhood. The scene along the Grand Trunk Road which connected Peshawar to Calcutta had undergone a transformation in 60 years. My heart was pounding as we took a left turn on the road leading to the village.
I felt as if the town had shrunk. Many places I remembered as suburbs seemed merged into the downtown. It was crowded, noisy and dusty. It had changed beyond recognition. Bazaars and streets were realigned. Old structures gave way to the new. Electricity, tractors and automobiles entered the otherwise quiet and sleepy town. The river had changed its course wiping out mango groves and other orchards behind the town.
Protecting monuments
The Muslim shrines, however, looked better than before. The non-Muslim devotees had protected the graves which were covered by fresh green chaddars with the Islamic number 786 and Gurmukhi narratives embroidered on them. The scene at Takya Baba Lahori Shah was particularly delightful. It was now in the centre of a well-planned flower garden and next to a modern structure where devotees gather for the annual festival or Urs of the Pir. A couple of elderly villagers who accompanied me on my pilgrimage pointed to the graves of my ancestors. The orchard had gone but the graves, still intact, were properly covered with green chaddars.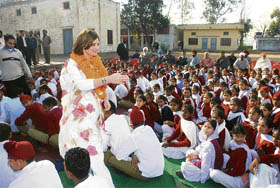 Cherie Blair, on a recent visit to the school at Dhilwan, to which she made a donation. ó Photo by Pawan Sharma

One of them even mentioned the name of a brother of my grandfather, Mian Mukhtar, a religious teacher. I asked for the place where Daryai Shah, a saintly figure with long hairlocks, lived. He used to hold the reins of the horse in front of the annual tazia procession commemorating the martyrdom of Imam Hussain. The house had gone but the grave of this Pir could be seen intact. The Muslim neighborhood adjacent to the grave and the mango groves in the rear had apparently been engulfed by the new course of the river.
I was looking for Baldev Singh, a neighbour, who went to school with me for seven years. Sometimes we studied together in the light of a kerosene lantern in the haveli of his parents. At the end of a narrow street I saw the enamelled name plate of his father, Sardar Jaswant Singh. I imagined if this was the house of Baldev, then my house should have been across the street. The other houses, however, looked unfamiliar.
An elderly man told us that Baldev, son of Zaildar Jaswant Singh, did not live in the town anymore. He is a retired director of research of the Punjab Agriculture University at Ludhiana and lives near the campus with his wife and children. SP drove me to a saw mill owner who held the keys to the old haveli and the phone number of Baldev Singh Dhillon. SP called up his number and I talked to him after more than 60 years. I also talked to his wife, a retired principal of a local girlsí college. Both were naturally surprised over this unexpected phone call but delighted. They invited me to Ludhiana to have lunch with them. I was thrilled to hear from my childhood friend and his gracious wife.
While in the village, I thought about the village dignitaries and other characters as I remembered them: Zaildar Jaswant Singh, a serious headman, who bought the first automobile in the village, a Norton motorcycle, for his eldest son, Harjinder Singh; his brother, Balwant Singh, who taught science at JDJ and held an elaborate wedding ceremony for his daughter. His house, right behind ours, was decorated with many of Iqbalís verse written on the whitewashed walls by our Farsi teacher who wore a turban wrapped around a kullah cap and biked to the school everyday from Chakoki. The calligraphy on the walls included : Koi andaza kar sakta hai us ke zore e bazo ka nigah e mard e Momin se badal jati hain taqdeeren. In the later years I realised that the Farsi teacher had replaced the term mard e Momin with mard e Kamil to secularise the verse without disturbing its meter; Nambardar Resham Singh who was notorious for throwing lavish parties for friends, excluding the Zaildar; Hakim Senapati, the short obese man who practised ayurvedic medicine and played chess; Doctor Tirath Ram who practiced allopathic medical system and played radio at his clinic to entertain his patients and Billah, the Muslim chief of the local police, who enforced state rules against cow slaughter with a heavy hand. I thought about a maulvi from the Deoband (UP) seminary, who along with his family lived in one of the two village mosques to lead prayers. I remembered when a tazia procession was passing the main bazaar he accidently came in contact with Shia mourners.
He felt extremely embarrassed and in panic ran to the nearby shop of a Hindu bania and hid himself inside. I also remembered Ishar Singh Randhawa who periodically rode to Dhilwan from an other village on horseback, holding a varnished staff in his right hand, consume a bottle of Bada-e-zarrin or Rahat-e-jan produced at the Hamira state distillery at a smelly snack shop and challenge Middi, the tailor from his village, to a streetfight. I also recalled the tailor master Mehtab-ud-din who led a group of villagers to perform Hajj by walking to Saudi Arabia.
Down memory lane
I remembered Boota, a dark-skinned portly man who travelled to Vishakhapatnam to become a bridge inspector in the expanding colonial railway system. Then there was Master Rehmat Ali who went to New Delhi, joined the Song and Drama department of the war effort and recorded his music. Other early images included two distinctive beggars: Phajja Gurzmar, a slim man with a long hairlock dangling by his shaven head and carrying a replica of an ancient bludgeoning weapon. He would approach someone in the bazaar and ask for alms. He would threaten him that he will injure himself with his "weapon" if he was not given some money. Once I actually saw him bleeding from his head. A fat dark-skinned, nearly naked, mendicant called Mangalwala Baba who would go on begging rounds only on Tuesdays. I remembered the day when a young son of the smelly snack shop owner abandoned his family, put on a saffron gown and left for the hills to meditate and worship. Kabaddi, which required no paraphernalia, was the game in town and its players, Narbhey Singh, Harbans Lal Sharma and Sheikh Sardar, our childhood heroes. Basketball had just been introduced in JDJ and some of us dreamed of participating in the Gandhi Memorial National Tournament.
Looking at the hustle and bustle of automobiles in Dhilwan, I also recalled that travelling long distances 60 years ago on foot was a routine with the less fortunate people. Twice a year I walked from dawn to dusk with my mother to see her folks in Goindwal in Amritsar district following the course of the river.
Before leaving Dhilwan we stopped at the JDJ. Reportedly, it was now 10 plus 2, the equivalent of the 12-year high school in the United States. But I was saddened to see my first alma mater dilapidated and deserted. I went around the school looking for the classroom which I shared with Baldev and other students. Also, I looked at the empty office of the headmaster, Banwari Lal, a stern but kind administrator who went on the rounds supporting his feared walking stick. Unpleasant memories of caste and creed were eased by the headmaster when he included me in a group of students who were driven to Kapurthala to participate in the birthday bash of the maharaja. We travelled by a bus which was powered by a piggy-back gas plant owing to the war time gasoline shortages. The Ahluwalia ruler looked like a smart Englishman in Jodhpuri as he stood before the children from his state. Our group stayed overnight at Banwari Lalís city home where his wife fed us without discrimination. I was assured by the village elders that JDJ is under renovation and it will soon be full of students and teachers.
A miracle meeting
I spent two nights at the palatial house built by SPís father, Sardar Rajinder Singh Bhatia, and his brothers for the joint family in Jalandhar after their parents migrated from Lala Musa, where I had lived for about three agonising months in 1947. The youthful Bhatia brothers drove me to Ludhiana in their Honda SUV for a sentimental meeting with my childhood friend. Baldev received us at his house built recently across the canal on Ferozepore Road. I do not believe in miracles but I told him our meeting after a separation of more than 60 years in which we had no news of each other was no less than a miracle.
Reminiscing in an antique-studded drawingroom, he mentioned my childhood name and the name of my father correctly. I told him I grew up under a new name in a new neighborhood on Ferozepore Road, Lahore, from where I migrated to the United States in 1971 to pursue further studies and make a living. Talking about our neighbourhood in Dhilwan, he told me that the street in which I saw the enamelled name plate of his father was not the one where my house used to be. It was on the other side of their haveli. As a Lahore ascetic poet, Miraji, wrote:
Nagri nagri phira musafir ghar ka rasta bhool gaya
(The traveller roamed from town to town and (in the end) lost his way home)
Baldev gave me an unofficial tour of the campus and parked outside the University Museum which exhibited the Punjabi rural life. As we were entering a modest two-storey building he pointed out to a marble slab outside which said the museum was inaugurated by Khushwant Singh.
Incidentally, only two days later, in New Delhi, I was going to meet the former Lahore lawyer who became a leading light of Indian journalism and literature. Dr Dhillon briefly stated how under his leadership PAU had collaborated with Pakistanís Agricultural University at Faisalabad in the enhancement of food crops, especially maize breeding. Wikipedia says he is working in maize biotechnology at the University of Hohenheim, Stutgart, Germany; has published as many as 340 research papers and books and won many international awards. I am proud of my childhood friend and classfellow at JDJ, Dhilwan.
From Jalandhar, I called my cousin in Rawalpindi to tell him about my visit to our ancestral village. He was unhappy to hear that I was able to travel and he was not. Thousands of people on both sides of the international border are yearning to visit their birthplaces but the two countries have yet to see the wisdom in issuing nationwide visas to the citizens. Back in Pakistan when I told Ahmed Salim that in Attari Sham Singh I saw an Amritsar-Lahore-Nankana Sahib bus being escorted by two jeeps filled with armed Indian policemen to Amritsar, he said he was in it. He was travelling to New Delhi to attend a cultural festival there on a city-specific visa. Being a US citizen, I had the privilege of receiving a countrywide Indian visa.
(Akmal Aleemi is a Senior Editor at Voice of America, Washington.)