M A I N N E W S
Haryana MP helped scam kingpin?
Lid off Dr Amit's political support
Tribune News Service/Agencies
Moradabad, February 2
In yet another pointer to the deep reach of the kidney transplant racket, the Uttar Pradesh police arrested a doctor in Rajasthan in this connection and said its kingpin, Dr Amit Kumar, had political connections and invested in film-making.
Krishan Kumar Agrawal, anaesthetist with a private hospital at Alwar, was arrested from his house in the Rajasthan town last night by a team of police from Moradabad, SSP Prem Prakash said today.
Agrawal told the police that he had helped Amit perform more than 200 surgeries in the past two and half years for financial reasons. He said he got Rs 20,000-30,000 per operation working with Amit whereas he used to get only Rs 700 in Alwar, Prakash said.
He said Dr Upendra, an associate of Amit, told the police that a Congress MP from Haryana had come to the rescue of the racket kingpin when income tax sleuths had recovered Rs 6 crore from his house in a raid.
"Dr Upendra revealed that Amit had close relations with an MP and former Deputy Chief Minister and protection of several big political leaders in Haryana. The former Deputy Chief Minister had also inaugurated Amit's hospital at Gurgaon," the SSP added.
According to Dr Upendra, Amit's original name is Santosh Raut. In 1994, he used to practice in Mumbai, when the police nabbed him in a Kidney transplant case. His first marriage ended in divorce. Later, he married Poonam."
The SSP said Amit used to invest money earned from the illicit trade in several Bollywood films. His brother Jeevan had also acted in one of these films. His links with the underworld were being investigated by the Mumbai police.
Upendra had yesterday confessed that the gang was active in Haryana, Uttar Pradesh, Uttarakhand, Rajasthan, Jammu and Kashmir, Bihar and Nepal.
The medico had revealed the name of six medicos and efforts were being made to trace them.
Dr Upendra had also confessed that Amit operated upon some persons to take out their kidney in Gungtur district of Andhra Pradesh.
"Upendra's statement is very important to us and we are taking it seriously," said the SSP.
Meanwhile, Dr Upendra's police remand expires tomorrow and the police is yet to move court to seek the remand of Agrawal.

'Police helped him flee'
Parminder Singh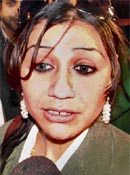 Bulbul Katariya, girlfriend of Dr Amit
Noida, February 2
A woman friend of Amit has disclosed that the Gurgaon police had helped him to flee ahead of the raid.
The Gurgaon police had arrested Amit's girlfriend, Bulbul Katariya, and another person from the offices of a news channel in Noida. Bulbul had given very sensational accounts regarding the scam in her interview to the news channel.
She disclosed that Amit had very friendly relations with the Gurgaon police.
She said the day the Moradabad police was to raid his premises, a helpful Gurgaon police inspector had alerted Amit about the raid.
Bulbul of South Extension, New Delhi, and a youth, Anup, had reached the Noida office of the news channel in Film City at 8.30 pm. She had said she was a friend of Amit and was an insurance agent. She was introduced to Amit two and half years ago by a common friend, Rahul.
She was with Amit at Gurgaon on January 24, the day his nursing home was to be raided. On getting the news of the impending raid, both of them left for Chandigarh, Bulbul said. Amit had later left for Canada via Nepal from Chandigarh while she returned to Delhi.
Meanwhile, the teams of Moradabad police carried out raids in Dadri, Modi Nagar in Ghaziabad, PWD Colony, Meerut and Nurpur town of Bijnore.
Moradabad cops raided five more places in search of three accused. According to Prem Prakash, SSP Moradabad, a Noida doctor had extended maximum cooperation to Amit. This doctor had got tests conducted in Noida pathology labs and patients treated in Noida hospitals.
A Dadri advocate was very close to Amit. He had looked after Amit's cases in Delhi and UP. Raids were conducted in Dadri to nab the advocate, the police chief said.
In Bijnore, a young woman of Nurpur colony had worked for Amit for years. The police has questioned her in-laws residing in PWD Colony, Meerut.

MP refutes allegations
Bijendra Ahlawat
Tribune News Service
Jind, February 2
Congress MP from Hisar Jai Prakash, who hails from Jind, on Saturday rebutted the allegations of his alleged contacts with the kidney racket kingpin Amit and Dr Upendra, an accused. The MP claimed that it could be a case of mistaken identity as he had nothing to do with both accused and had never came into contact with them.
Speaking at a hurriedly called news conference, Jai Prakash described the news items being aired by a news channel, naming him as one of the friends or known of the accused doctors as baseless. The channel has reportedly been claiming that name of a Congress MP from Haryana has surfaced during the probe into the scam by the Moradabad police.
Jai Prakash is a confidante of the Haryana Chief Minister. He said there were at least four MPs in the present Parliament sharing the name, Jai Prakash. He has threatened to sue the news channel, saying that he was ready to resign and leave the politics if his involvement in the racket was proved.