Past forward
With Ashutosh Gowarikar's Jodhaa-Akbar due for release soon, Shoma A. Chatterji looks at a few historical films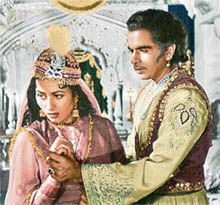 Mughal-e-Azam ranks second among all-time blockbusters in Hindi cinema
Historical romance across the world holds a special charm for literature and cinema. For Indian mainstream cinema, there is the added attraction of the 'period' feel, the lavish sets, the grand costumes, beautiful actors and last but never the least, scintillating songs and a memorable musical score.
As to Ashutosh Gowarikar's upcoming Jodhaa-Akbar, in reality, Akbar's wife was never known as Jodhaabai, as a name, appears to have been a 19th century mistake. Her real name was Hira-Kunwari before marriage and after marriage to Akbar she was known as Mariam-uz-Zamani. The facts are debatable because Jodhaa is said to have remained Hindu for the rest of her life. According to historical texts, Akbar actually did meet Jodha before they were married. It was Akbar who proposed to her father for her hand in marriage to create an alliance and also because he became fond of her.
It is a sixteenth century love story about a marriage of political convenience that evolved into a story of true love between the great Mughal emperor, Akbar, and a Rajput princess, Jodhaa. Political success was important for emperor Akbar. After having conquered the Hindu Kush mountains, he furthered his conquests till his empire extended from Afghanistan to the Bay of Bengal, and from the Himalayas to the Godavari river. Through a shrewd blend of diplomacy, intimidation and brute force, Akbar won the allegiance of the Rajputs, the strongest among the Hindus at that time. Little did Akbar know that when he married Jodhaa, a fiery Rajput princess, in order to further strengthen his relations with the Rajputs, he would in turn be embarking upon a new journey — a journey of true love.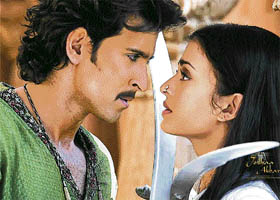 Jodhaa-Akbar is the untold love story of Mughal emperor Akbar and Rajput princess Jodhaa
"The daughter of King Bharmal of Amer, Jodhaa resented being reduced to a mere political pawn in this marriage of alliance, and Akbar's biggest challenge now did not merely lie in winning battles, but in winning the love of Jodhaa — a love hidden deep below resentment and extreme prejudice. Jodhaa-Akbar is their untold love story," adds Gowarikar.
Anarkali (1953), directed by Nandlal Jaswantlal, starring Bina Rai in the title role and Pradeep Kumar as Akbar's son, the Mughal king Jehangir, was one of the biggest hits for many years to come. Neither Bina Rai nor Pradeep Kumar were box-office pullers like Hrithik and Aishwarya, nor were they exactly famous for their acting skills. But it was a fine blend of everything, specially the immortalised music by C. Ramchandra with playback singing by Lata Mangeshkar, Hemant Kumar and Geeta Roy that raised the film to high levels of aesthetics.
No one knows till this date whether Anarkali is a fact of history or a figment of imagination. But her legend continues to mesmerise. She has caught the eye of nearly every big name in the arts in South Asia for the past 100 years. Playwright Syed Imtiaz Ali Taj's version for the stage is considered a masterpiece. Abdur Rehman Chughtai's rendition of Anarkali, used as a cover for Taj's play, is one of the most famous paintings of the courtesan. In 1960, K. Asif's epic film Mughal-e-Azam was released and was re-released in 2004 as a colour film. Set in the 16th century AD, Mughal-e-Azam brings to life the tale of the doomed love affair between the Mughal crown prince Salim and the beautiful, ill-fated court dancer, whose passion triggered a war between the prince and his father Akbar and threatened to bring an empire to its knees.
Ustad Bade Ghulam Ali Khan sang two songs for Mughal-e-Azam lending voice to the character of Tansen. The story goes that he charged Rs 25,000 for each song at a time when the going rate for top playback singers like Lata Mangeshkar and Mohammed Rafi was under Rs 500 per song.`A0The film took 11 years to complete. It held the record for the highest grossing film ever till Sholay broke it in 1975. Mughal-e-Azam now ranks second among all-time blockbusters in mainstream Hindi cinema. Naushad's musical score is counted among the best musical scores in the history of film music.
The famous dance sequence of the song pyar kiya to darna kya is set in the Sheesh Mahal (mirror room) of the Lahore Fort. This is a historical anomaly since the Sheesh Mahal of Lahore Fort did not exist in the era of emperor Akbar. It was built by Akbar's grandson, Shah Jehan, many years later. Decoration with mirrors, known as Aleppo glass, was a recurring part of early Mughal architecture. But this song and the backdrop was one major draw of the film.
Taj Mahal, that stands as an international symbol of the love emperor Shah Jehan had for his deceased wife Mumtaz Mahal, has been filmed several times. Taj Mahal was first made in 1941 by Vakil with Nazir and Suraiya playing the lovers. M. Sadiq made Taj Mahal in 1963 with Pradeep Kumar as Jehangir and Bina Rai as Mumtaz Mahal. This film too, was a big hit mainly for its wonderful music. Actor Akbar Khan produced and directed a new Taj Mahal (2005). The film disappeared without a trace.
"I hired a research team of historians and scholars from New Delhi, Lucknow, Agra and Jaipur to guide me and help me keep things historically accurate," says Gowarikar about Jodhaa-Akbar. He goes on to add that he has used more than 80 elephants, 100 horses and 55 camels in the film. The title song features around 1000 dancers in colourful and period costumes weilding swords and shields shot on location in Karjat near Mumbai. Will this beat K. Asif's famous sheesh mahal in Mughal-e-Azam? Is cinema stranger than fictionalised history? Will the audience of 2008 lap it all up? Jodhaa-Akbar may throw up some answers. — TWF