M A I N N E W S
State of Public Healthcare — III

Broom and salt for scabies
A.J. Philip
Tribune News Service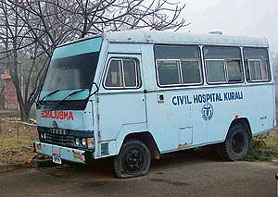 Immobile for more than two years. — Tribune photo by Vicky Garu

Tarapur (Mohali), February 5
When Portuguese sailor-turned-invader Vasco da Gama reached Calicut in 1498, he wanted to meet the Zamorin to secure trading rights. Audience was immediately granted.
But the Zamorin was distressed to find that Gama had matted hair and was suffering from scabies. In fact, he was stinking. The idea of wearing washable underwear had not yet occurred to the Europeans.
The Zamorin is believed to have given Gama an indigenous body cleaner called incha (bark of acacia intsia) and a shampoo called thali (extracted from palmyra leaves) and asked him to go and take a nice bath before discussing trade relations.
That the Zamorin had to pay a price for teaching Gama personal hygiene is a different matter. If Gama were to visit this part of Punjab today, the local people would advise him to go to the twin "mazar" of Baba Budhan Shah and Lal Wala Peer, 3 km from here on the way to Majri Colony, to offer one kg of common salt and a broom to cure himself of scabies.
People here believe that such an offertory is a sure shot against skin diseases. Nobody knows when these "Peers" lived or whether they were Sufi or Sikh saints. Thursday is the best day for making the offertory, we were told.
Don't be mistaken that only old, illiterate people believe in the efficacy of the broom and salt offertory against scabies. Our guide Kamal Kishore stopped two young men, smartly dressed, going to the "mazar" on a new Bajaj-Kawasaky motorcycle.
The pillion rider held a packet of Tata salt and a new broom in one hand and a Nokia-large screen mobile in the other into which he was saying sweet nothings.
My colleague Chitleen Sethi asked them where they were going. They had neither shame nor hesitation in telling us that they were going to the "Lal Wala Peer" to make the offertory. What for? "Against skin disease", the motorcycle rider instantly answered.
The caretaker of the "mazar" encourages people to make such offertories which he sells in the market. People are also encouraged to offer buffaloes to receive better blessings from the sacred souls entombed there.
At the Khizrabad mini-Public Health Centre, Pushpa Devi, who was busy updating the register of patients, told us that scabies was indeed a very common disease in the area. Those who have studied general science know that it is a contagious disorder of the skin caused by very small, wingless insects or mites called the human itch mite. Personal hygiene alone can fight the disease.
"The level of illiteracy is such that superstitious beliefs hold the people in thralldom", said Pushpa Devi. The doctor in charge, Sunita, had gone for a meeting. That day 36 new patients had turned up for consultation at the mini-PHC.
One reason why it functioned reasonably well was its location. Pushpa Devi, who lives in Chandigarh, has no problem in commuting daily. "Every 20 minutes a bus is available for Chandigarh". While the PHC has "enough stock of medicines", it is perpetually short of antibiotics without which most diseases cannot be fought.
"Until recently, we had a large quantity of tonics in our stocks". Regular supply of medicines is not something the government has been able to ensure. The quacks operating in the area sometimes worsen the condition of patients because of wrong diagnosis and treatment.
Many of the so-called homoeopathic doctors in the area practice allopathic medicine with disastrous consequences. But there is nobody to check them. If lack of doctors and their willingness to work in the areas they are posted is a major problem, the Community Health Centre at Kurali has a peculiar problem of plenty.
Its emergency wing was inaugurated by local MLA Ujagar Singh Badali at an impressive function on January 28. Located on the highway, accident victims flock to the hospital at all times, day and night.
But the hospital does not have a single simple MBBS doctor to be posted there. Instead, there are five specialist doctors. As a result, the hospital is compelled to post one of the specialists in the emergency section. So a gynaecologist like Neera Verma will have to sit in the emergency section and attend to simple bruises and cough and cold cases while pregnant and lactating mothers are deprived of her service during the time she is posted there. The hospital ambulance has been immobile for the last more than two years.
To be fair, the government has put in place an elaborate and extensive network of health facilities. Rural health facilities are based on the recommendations of the Bhore Committee report. There is a four-tier system with sub-health centres at the bottom, medical colleges and speciality hospitals at the top and primary health centres and community health centres in between.
While hospital buildings exist, it is in the delivery of services that Punjab fails. Absentee doctors are just one aspect of the failure of the public healthcare system in Punjab.
Concluded