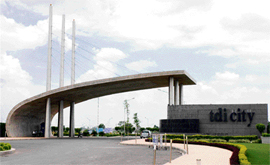 Waiting for genuine buyers
Realty scene in and around Sonepat and Panipat does not present a rosy picture as several investors are reeling under the recent slump in prices, reports Vishal Joshi
Prices of real estate in the NCR region of Sonepat and Panipat districts are reportedly tumbling in the absence of "genuine" buyers.
Mall boom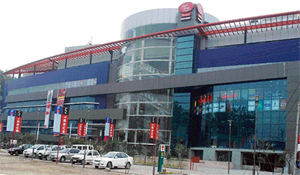 With projects worth a whopping Rs 4,500 crore lined up, mall culture has come to Jalandhar in a big way as this NRI heartland embracing chic shopping experience, reports Dharmendra Joshi
Jalandhar is gradually becoming the hub of shopping malls in the state, especially in the Doaba region which is popularly known as the area of NRIs. While three malls and multiplexes are already operational in different parts of the city, over a dozen others are under construction.
Buzz on Bourses
Tie-up for Rs 1000-cr township project
New Delhi: Real estate company Uppal Group has tied up with IL&FS-funded venture capital firm QVC Realty for developing a 150-acre township in Gurgaon, entailing a cost of Rs 1,000 crore. "We have entered into an agreement with QVC for developing a township at a prime location in Gurgaon. It will be a Rs 1,000-crore township, where the project cost will be shared equally by both the parties," Uppal Group Director (Finance) Ajay Mangal said. The company has diluted 50 per cent stake of the project to QVC Realty and expects a realisation of Rs 1,600 crore from the project, he said. Uppal has already acquired the land for Rs 600 crore in Gurgaon, Sector 99, which is adjacent to the Special Economic Zone being developed by Reliance, Mangal said.
TAX tips
Married daughters have an equal share in father's property
Q. This is regarding a recent amendment to the Hindu Succession Act 1956. I want to know whether it covers the daughters who are already married on the date of amendment. As per a write up which appeared in the Indian Express (dated 16.12.2004), the writer Manoj Mitta stated, "The proposed reform will not, however, apply to daughters married before the enactment of the amendment. This means that a woman who is already married cannot become a co-parcener in her father's family". I shall be thankful if you kindly clarify whether the daughters already married on the date of enactment of the amendment i.e. 9.9.2005 have an equal share rather any share in the HUF property.
The considerate cut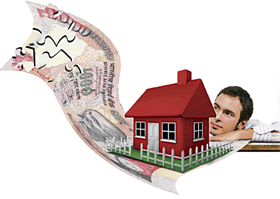 With several major banks slashing home loan rates, the housing sector in the country is all set to get a new lease of life, says S.C. Dhall
While property developers earned billions this financial year by mopping up money from the bourses, owning a decent home remained a distant dream for a common man in view of the rising interest rates amid firm real estate prices. In its monetary policy the Reserve Bank of India too gave no indication of a rate cut. But several banks are now lowering lending rates on housing loans keeping in view the slowdown of loan growth in the third quarter ending December 2007.
Burj Dubai set to become tallest building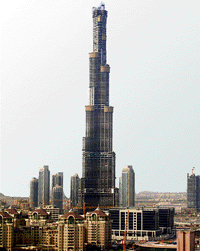 Work on the Burj Dubai, set to become the world's tallest building, has been accelerated with 50 per cent of its exterior cladding being completed. "The architectural and design splendour of Burj Dubai is now coming to fruition with the installation of the cladding, which is being executed on an accelerated schedule," Emaar Properties, developer of the project, stated in a company press release here. "With 50 per cent of the work completed, Burj Dubai is setting new milestones in the speed of construction of super-high-rises," it said. The cladding work is being done by the Arabian Aluminium Company in phases across various levels to match the project timelines. More than 12,000 panels covering an area of over 50,000 square metres have been installed on the tower, which is now unofficially the world's tallest freestanding structure.
GROUND REALTY
Recipe for a perfect kitchen
Health and hygiene being the mantra for modern living, architects and interior designers are now giving due importance to kitchen planning and accessories. With many kitchen options now available, here are a few tips to have a really workable, enjoyable, clean and good looking kitchen:
Income from realty trusts may be taxed
FICCI lists recommendations on draft REIT regulations
Taxation of income from Real Estate Investment Trusts (REITs) on the lines of mutual funds, permission for investment in housing development activities, exemption from capital gains tax on the sale of assets of REITs and VAT ability of stamp duty payable by a REIT are among the 15-point recommendations made by FICCI on the draft (Real Estate Investment Trusts) regulations issued by the government.
Global pvt equity firms to invest $48 bn in India by 2010
Global private equity firms are likely to invest $48 billion in the Indian market over the next two years, with the real estate sector slated to emerge as a key beneficiary, industry body Assocham said.
Website for Orissa real estate market launched
A website on the real estate market in Orissa has been launched. It will provide information on new housing projects, their locations, cost and other amenities available in the complex. "The website, gharabari.com, contains information about different home loans schemes offered by banks and other financial institutions to buy property," MD of the site D.S Tripathy said.
Indian firm builds luxury condos in Nepal
The Gurgaon-headquartered Ravi Jaipuria group has begun consolidating business in Nepal by launching its first residential project in Kathmandu and announcing plans to bring Pizza Hut and Costa Coffee to Nepal.
Stadia group to invest 1,000 crore