Sania's bombshell
The much-harried tennis star's decision to skip tournaments in India has revealed the downside of being a female achiever from a minority community, writes Vaibhav Sharma
AFTER a controversy in 2005 regarding her on-court attire, Sania Mirza had worn a T-shirt with a cheeky slogan, "Well behaved women rarely make history". The statement can easily be misunderstood to be a na`EFve and immature way of replying to religious fanatics and moral brigades who have kept her occupied even off the court.


Freeze-frame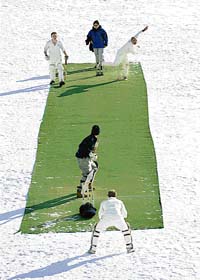 A match in progress during the Cricket on Ice event on the frozen lake of St Moritz, Switzerland, on January 31 — Photo by AFP
Packing a solid punch
M.S. Unnikrishnan
INDIAN boxing seems to be in a resurgent mode with Akhil Kumar becoming the second pugilist to qualify for the Beijing Olympics, which would be his second successive Olympics. Featherweight boxer Anthresh Lalit Lakra had attained the qualifying mark when he reached the quarterfinal of the World Championship at Chicago in November last year.
What a sight
HITTING a hole-in-one is hard enough. Now consider that Leo Fiyalko is 92 years old and blind. "I was just trying to put the ball on the green," he said. Fiyalko, who has macular degeneration and has been playing golf since he moved to St Petersburg from Warren, Ohio, in the 1950s, scored the ace with a 5-iron on the 110-yard fifth hole at the Cove Cay Country Club in Clearwater (Florida) recently.
IN THE NEWS
Olympic goal
Kusum Arora
SHE has set her sights on securing an Olympic berth for India. Mamta Kharab, the captain of the women's hockey team, knows that her girls need to play outstandingly to win the qualifier at Kazan, Russia, from April 19-27.