M A I N N E W S
Baba Amte dies at 94
Tribune News Service
Mumbai, February 9
Baba Amte, noted social activist and winner of the Magsaysay award, passed away this morning at his ashram at Maharashtra's Chandrapur district. He was 94.
The end came at his Anandvan ashram in Chandrapur district where Baba Amte was based for the past several years after cutting down on his social engagements due to ill-health. Dr Vikas Amte, son of Baba Amte, said the noted social worker passed away in the morning at 4.15. Baba Amte has been suffering from cancer for some time.
The Anandvan ashram set up by Baba Amte is known for its rehabilitation programme for leprosy patients.
Born Murlidhar Devidas, Amte the Baba took up the mission of working with leprosy patients on the insistence of Mahatma Gandhi. Before cure for leprosy became widespread, Amte's ashram played a yeoman role in providing refuge for leprosy patients.
Baba Amte is known for his bravery when he offered himself as a guinea pig for the testing of a vaccine for leprosy. He offered to have himself injected with the leprosy bacilli for the purpose of medical research.
In later years, during the height of terrorism in Punjab, Baba Amte hit the national headlines with his "Bharat Jodo Yatra" that took him across the length and breadth of the country. He was subsequently given the Magsaysay award for his work.
Born on December 26, 1914, in Maharashtra's Wardha district, Amte originally trained as a lawyer and participated in the freedom struggle. Later on he came under the influence of Mahatma Gandhi and spent time with the Father of the Nation.
Amte then gave up his law practice and took up the work of leprosy patients after doing a leprosy orientation course at the Calcutta School of Tropical Medicine.
The Anandwan ashram was started by Amte, his wife Sadhana and six leprosy patients.
His two sons Vikas and Prakash, both doctors, are now continuing the crusade against leprosy. Apart from the President and the Prime Minister, several other noted personalities have mourned the death of Baba Amte.
President Pratibha Patil and Prime Minister Manmohan Singh on Saturday described Baba Amte as a saint and a true Gandhian who was committed to the welfare of the destitute.
"Baba Amte is a great example of a person who committed his life for the welfare of the destitute and needy," the President said.
"It is with a deep sense of grief and loss that I heard about the demise of Baba Amte. A true Gandhian who worked hard to uphold the Gandhian values in their true spirit, Baba Amte became a legend in his own lifetime," the Prime Minister said.
Maharashtra Chief Minister Vilasrao Deshmukh said the country would forever remember the work done by Baba Amte for leprosy patients and poor people.

Baba Amte was a saint of our times, says Patil
Tribune News Service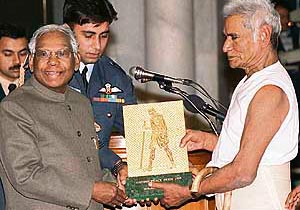 Receiving the Gandhi Peace Prize for 1999 from the then President K.R. Narayanan.
New Delhi, February 9
President Pratibha Patil, Vice President Hamid Ansari and Prime Minister Manmohan Singh today paid eloquent tributes to legendary social worker and Ramon Magsaysay award winner Baba Amte, describing him as saint of our times and an eminent Indian, who upheld the Gandhian philosophy by "wiping away tears from the eyes of the poor and the downtrodden".
In the condolence message to his wife Sadhna Amte, Patil said, "Despite hailing from a well-to-do family Baba Amte dedicated his life to espouse the Gandhian ideals" and worked hard to wipe away tears from the eyes of the poor.
In his message, Ansari described Baba Amte as an "eminent public personality", who worked tirelessly for the poor.
In his condolence message, the Prime Minister said, "It is with a deep sense of grief and loss that I heard about the demise of Baba Amte. A true Gandhian, who worked hard to uphold the Gandhian values in their true spirit, Baba Amte became a legend in his lifetime. The work he did for the uplift of leprosy-affected people at Anandvan alone puts him in a unique class of great national figures, who lived for the betterment of their fellow human beings."
Lok Sabha Speaker Somnath Chatterjee said the Baba stood for Gandhian values throughout his life. "His contribution in the process of nation building particularly services to the leprosy patient will be remembered forever, he said.
Meanwhile, Congress president Sonia Gandhi has said Baba Amte was one of the noblest personalities that India have ever seen. She said he was a true Gandhian in every sense of the term and commanded the highest respect and admiration because of his complete integrity.

Obituary
A spirited crusader
Warora (Maharashtra), February 9
An ardent Gandhian, a tireless social activist and a spirited environmental crusader, Baba Amte lent a new dimension to leprosy service by instilling in thousands of hapless leprosy patients the confidence to live a brave, productive life.
The founder of the world-renowned Anandvan leper-rehabilitation centre in Maharashtra's Chandrapur district, who died at the same place, Baba also brought to the centre-stage the issue of colossal environmental destruction that mega developmental projects caused in their wake through his crusade against big dams. Though Baba Amte earned praise globally for his phenomenal service to leprosy patients, he drew sneers and scorn when he took to cleaning gutters and nursing the wounds of hapless leprosy patients.
Recipient of several national and international awards like Padma Bhushan, Damien Dutton, Templeton, Right Livelihood and Magsaysay for his work in the field of leprosy service, Baba left the Anandvan Ashram to his elder son Vikas and set up an abode in Kasravad in Madhya Pradesh to lead his crusade against the gigantic Narmada dam project that threatened to devour vast stretches of thick forest land and displace thousands of villagers in the early nineties.
While his wife Sadhana-tai stood by him all through his tumultuous life full of untold hardships, he inspired his sons Vikas and Prakash along with their wives, Bharati and Manda, respectively, all of whom are medical graduates, to take to the life of selfless service. Even while unable to sit because of an impaired backbone for the past over four decades, Baba never ceased to work and remained mentally agile almost till the end of his life.
A connoisseur of western films - his fascination for Marilyn Monroe was well-known - Baba would recite long stanzas of Marathi and English poems and recall names of decades-old acquaintances and events when visitors came to meet him during his terminal illness. Advised bed rest in view of his multiple ailments, including cardiac, Baba would insist on going for brisk walks on the ashram premises. When fatigue overtook him during one such walk last month necessitating hospitalisation, he told IANS, "the pumping machine in my chest, that is my physical heart, doesn't keep pace with me." — IANS